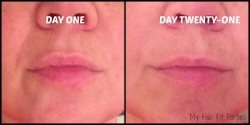 Haddonfield, NJ, December 23, 2014 --(
PR.com
)-- Writer and critic Gigi Parker, author-publisher of one of the most read blogs, "Fab Fit Forties" features health and beauty tips, reported her test of a new cream that targets Nasolabial Folds; one of Skin-Care's toughest problems.
The product: Nasolabial Fold + Multi Peptide Cream by Reviva Labs Haddonfield, N.J., a natural skin-care company distributed in Health Food and Cosmetic Stores.
Her blog explained that Reviva Labs research discovered that the nasolabial folds are not only the result of "smile or frown lines" but the loss of cheek fat. Reviva reports, "As people age, the cheek fat slides down toward the nose, causing skin sag and folds. The new cream features special new peptides that can increase fatty tissue volume, helping folds look less pronounced."
"Fab Fit Forties" Parker decided to utilize the new cream in Reviva's 3-step layering process, although it can be used alone.
She first applied Reviva's mineral-rich seaweed "Energizing Gel" that preps skin to aid deeper absorption.
Next, over the Gel, at night, she lightly massaged in Reviva's anti-wrinkle "5% Glycolic Acid Cream."
Then in the 3-step layering process, she targeted the folds with the new Nasolabial Fold + Multi Peptide Cream, spreading it across the cheeks towards the ears.
Ms. Parker's blog showed the results with before and after pictures of just 21 days usage.
The photos spoke for themselves; a remarkable difference.
For full details of her blog, go to www.myfabfitforties.com click on Blog Archive and then choose "Bye Bye Puppet Lines."
Or contact Reviva Labs, Inc. at 1-800-257-7774, or see www.RevivaLabs.com.
Note to Editor: For a free sample of Nasolabial Fold + Multi Peptide Cream, contact: Elena Cruz, American News Services, at 29 Bala Ave., Ste. 114, Bala Cynwyd, PA 19004; Tel.: 484-562-0060; E-Mail: adcomtimes@aol.com.