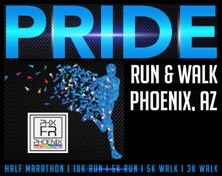 Phoenix, AZ, January 15, 2015 --(
PR.com
)-- PHXFR is again stepping up its game in 2015 with the introduction of new USATF certified courses supporting 5 events ranging from Half Marathon all the way down to 5K Walk. There is even a noncertified, chip timed 3K Walk offering.
"This is going to be another exciting year for us," said Kurt Gross, President of the Broad of Directors for Phoenix Frontrunners, Inc. "We're expanding our offerings again this year, so everyone at all fitness levels can find their unique experience built on a foundation of quality and professionalism."
Also, PHXFR is introducing "Team Challenge" this year where you are able to participate as team. They even are introducing a Half Marathon relay option. In addition, there will be entertainment and an Adventure Expo that is open to the public whether participating in an actual event or not. So, it is a great way to bring a cheerleading squad that won't get bored while you are running or walking.
PHXFR seems very serious about producing an elite running and walking experience in the industry. In addition to the more standard expectations like tech shirts, swag and refreshments, they have upped the ante, including more unusual perks like finisher's medals and chip timing in all events. They've even introduced pacers for their Half Marathon and for those inclined there is even an option for participating in a Friday night pre-race dinner party.
More importantly, at their core, they are staying true to running and walking. PHXFR has designed courses taking advantage of central Phoenix city streets, all of which have been mapped to be flat, fast and interesting.
PHXFR is a nonprofit running and walking organization focused on community health and education. It also is unique in that it is LGBT identified, which is a main reason it produces its Pride Run & Walk event over Pride weekend. However, this event should not be considered a "gay-only" event.
"We have people from all walks of life participating in our events and for many different reasons," said Dan Shabra, Vice President and Treasurer of the Board of Directors for Phoenix Frontrunners, Inc. "We think that is awesome!"
"You're right," said Kurt Gross. "When someone chooses to run or walk in our Pride Run & Walk, we want it to be because it's a great event that is fun for everyone and we are very proud to be able to bring this amazing sporting event to Phoenix that also focuses on equality and inclusion and promotes acceptance and diversity for everyone."
PHXFR was recently honored with an award from COMPETE Magazine at the COMPETE Sports Diversity Awards where it was recognized by COMPETE Network as an organization helping to fulfill its publication's mission of uniting the world through sports.
To learn more about this special upcoming event, visit the Phoenix Frontrunners, Inc. website at phxfr.org.