Implantable Artificial Kidney Corporation Seals Deal for 500K Funding
Funding will be used for further research and development of their IAK-1 artificial kidney prototype.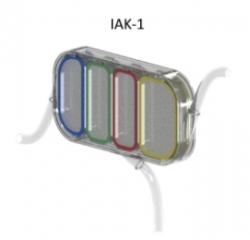 Roseville, CA, January 28, 2015 --(
PR.com
)-- After a month of negotiations, a private placement investment of 500K was provided through a trust fund held by an east coast hedge fund manager in an exchange for equity shares in the Implantable Artificial Kidney Corporation (IAKC). Future funding may come from the hedge fund itself when the need arises. The private investor wished to retain anonymity. The funding will be used to advance the development of their patented implantable artificial kidney prototype, known as the IAK-1. According to the company significant scientific advances will be made in 2015.
"This infusion of funding will help us reach a new level. We have a strategic plan in place to advance our science, and a growing network of expert technical consultants to assist our lead researcher Dr. Ira Kurtz when needed. We are in excellent shape," said Roland G. Ludlow CEO/President of IAKC.
An implantable artificial kidney is considered the "holy grail" of medical devices. To date, designing a fully functioning implantable kidney filtration device has never been accomplished. IAKC is advancing the technology by adapting new concepts based on solving known problems such as filter life, and patient safety issues that are associated with designing a device of this type. Many of the new changes coming to their flagship IAK-1 prototype are being kept under wraps and are regarded as trade secrets. The company plans to release certain information as these new developments come to fruition and the resulting intellectual property rights are secured.
About the Implantable Artificial Kidney Corporation (IAKC): TX - CA
IAKC is solely involved in the research and development of a fully functional implantable artificial kidney. The company currently possesses a patented prototype that is being further developed and tested.
About Dr. Ira Kurtz
M.D., FRCP (C) Professor of Medicine and Chief of the Division of Nephrology at University of California, Los Angeles (UCLA), Factor Chair in Molecular Nephrology
Contact
Implantable Artificial Kidney Corporation
Roland G. Ludlow
1-888-234-7631
http://implantablekidney.org

Contact