Club Inhale/Exhale Presents Their Health and Wellness Retreat: June 12th – June 14th
To successfully lose weight and keep it off you need accountability, structure, support, guidance, love, and understanding. Most of all, you need time for the habits to become you. Their 40 years of real-world experience has taught them that real change – and the significant, even extreme weight loss that comes with it – requires a real commitment. Changes require you to know yourself, working on change within and not just an understanding of the world around you but the world inside you.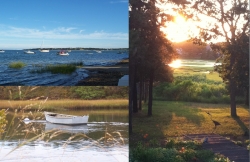 Billerica, MA, February 06, 2015 --(
PR.com
)-- Weekend Retreat Getaway, with a focus on your health and wellness.
What is it that you have been looking for? Have you been searching, knowing that something has to change but you're stuck in the day to day…. Nothing can change in your life unless you are willing to make changes. Let Club Inhale/Exhale's Coaches help. Can you be sure that's your going to be healthy in 5-10 years?
Coach Kelly states: "This is where the Club Inhale/Exhale's Coaches will help you change your B-Leef(tm) in yourself and help you realize that change is possible. Don't have to be afraid of it, just need to be ready to accept the information that is given to make those changes."
The Club Inhale/Exhale Health & Wellness weekend retreat will educate, train, and reprogram the mind for the long haul. Club Inhale/Exhale's Coaches believe in living the lifestyle, yes lifestyle.
Get all of the following:
June 12th – June 14th
Invest in yourself and register for the Club Inhale/Exhale retreat that will energize and motivate you to improve your nutrition, fitness, and lifestyle.
• Learn the skills to start the process immediately
• No more waiting or procrastinating
• These skills are easy
• Prioritizing your overall health & wellness
Michael, Co-Owner of Club Inhale/Exhale states, "We've been given one body, one mind, and one soul, no one can take them away from you, you own them, all day every day, and if you want to be happy and healthy as you age, you need to take care of both. This takes effort and discipline. This retreat is not for people who want all the answers given to them, it is for people who want to act on what they have learned and want direct interaction with the nutrition and fitness coaches who have helped many people achieve their personal goals related to their personal needs and desires."
Coach Kelly LaCasse Co-Owner of Club Inhale/Exhale goes on to say, "Here's your chance to make the changes necessary to live a happier, healthier, and more empowering life."
Retreat Info
• Weekend stay at one of their private homes when you're one of the first 10
• Breakfast and lunch is provided for you
Activities
• Kayaking with your Coaches
• Biking with your Coaches
• Pilates with your Coaches
Workshops
• Coach Kelly's Game Changer
• Coach Michael's How to Make Fitness and Nutrition a Lifestyle
• Coach Kelly's B-Leef(tm)
• Coach Michael's Understanding your Nutrition
A full itinerary will be emailed prior to attending the retreat.
To reserve a spot visit: http://clubinhaleexhale.com/cape-cod-fitness-nutrition-retreat/
To contact Club Inhale/Exhale for more information on the retreat or any other service they provide:
Website: www.ClubInhaleExhale.com
Email: info@clubinhaleexhale.com
Phone: (888) 707 – 1102
Club Inhale / Exhale, LLC Private Fitness Studios, Our Focus is on our Fitness Studios, Fitness Classes, Group Classes, Personal Training, and Nutrition Programs! We offer Workshops, Seminars, Corporate Training/Classes, Health and Wellness Retreat Getaways.
Contact
Club Inhale Exhale, LLC
Michael LoColle & Kelly LaCasse
888-707-1102
www.clubinhaleexhale.com

Contact