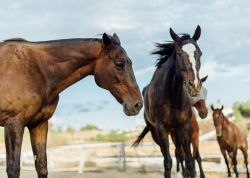 Temecula, CA, February 11, 2015 --(
PR.com
)-- She was a beautiful two year old Palomino being sent to the slaughter because of a foot injury. Two others were so emaciated that they continued with their previous eating habits and ate dirt even after being offered food at the sanctuary. Others arrived with cancer, Cushing's disease and a slew of other ailments.
These are just some of the 187 horses that Monika Kerber and Louise Gardner have rescued and brought to Villa Chardonnay Equine and Animal Sanctuary over the past eleven years. In their care, the horses have gained back hundreds of pounds, received ongoing medical care and have the permanent home they deserve until the end of their days. The sanctuary focuses on elderly and "special needs" animals that have few options for adoption at other rescues.
The equine safe haven has grown exponentially and cares for an incredible 140 abandoned horses, 8 rescued donkeys, 3 goats, over 50 homeless cats, 14 rescued dogs and 3 turkeys. The waiting list is long for animals seeking a home at Villa Chardonnay.
Now Villa Chardonnay, one of the largest and most reputable sanctuaries in North America, must leave their current home. They have until the end of April. The countdown is on.
"Help us protect them all. We have committing the rest of our lives to them and their care. Each one is unique and has special needs. We are urgently reaching out to animal lovers throughout the country for help," said Monika, CEO, hands on care giver and rehabilitator at the facility.
Geraldine Strunsky Founder of the Temecula Valley Polo Club and children and animal rights activist has seen firsthand the work that they have done. "Monika and Louise are all heart. They have displayed an unwavering commitment to the welfare of abandoned and mistreated animals by building a sanctuary for so many to live their last years with the respect and dignity they so deserve. Villa Chardonnay is a monument to which we should all bring our children to learn what it truly means to have compassion."
In addition to finding a new home, the current space is not sufficient for the number of animals on the property. A larger facility will provide a better home for the animals and offer additional programs for the children and adults. A location has been identified that has enough land for the horses, equestrian facilities for programs including equine therapy and helping people with disabilities, and room to grow alfalfa for feed. Growing their own alfalfa will have a net monthly savings of $12,000 to start with. With these programs in place Villa Chardonnay will achieve their overall goal of becoming a self -sustaining nonprofit.
Villa Chardonnay has launched the "Forever Home Legacy Campaign" a national capital campaign to raise funds for a down payment and the physical move. Additional cost of the property will be financed through a mortgage, as a property required for the current population of animals in into seven figures. The deadline to raise the funds is by April 2015.
"This has been devastating for us. Sadly and unexpectedly the place the animals have called home will no longer be available for us. Of course timing is not on our side to raise the funds and it has become urgent. We have a plan for self-sustainability, now we just need the money," said, Louise, who has also been in executive level business management for years.
"We have the destiny of 212 living creatures in our hands, not just horses but dogs, cats, goats and other farm animals. If Villa Chardonnay is not here to care for them, I don't know who else would. I am confident with help from compassionate people we can raise the funds so they never need to suffer again like they did before arriving at Villa Chardonnay," said Monika.
See more about the capital campaign and corporate sponsorship opportunities at
www.villachardonnay.org
or mail your donation to 42200 Calle Barbona, Temecula, CA 92592.PAll interested in participating please contact Louise Gardner at
Louise@VillaChardonnay.org
.roVilla Chardonnay, Horses with Wings, Inc. is a 501(c)(3) non-profit corporation. All donations made to Villa Chardonnay, Horses with Wings, Inc are tax deductible.