JSwinetours: Wine Tour Planning 2015 Released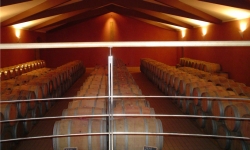 La Forge, France, February 20, 2015 --(
PR.com
)-- JSwinetours recently published its wine travel program for the 2015 season. Apart from the private tours and day tours in Alsace and Burgundy all year round, there will be a luxury Alsace tour in autumn and two luxury Tuscany tours, one in spring and one in autumn.
All luxury tours are 5 days and 4 nights. On each tour there will be about 10 exclusive tastings. Most meals are included, some at the wine estates and some of the dinners will be at Michelin starred restaurants of great fame.
Detailed programs will be mailed on request.
New in 2015: Burgundy tours
JSwinetours will also bring groups to Burgundy in 2015.
Like in Alsace and Tuscany, JSwinetours also knows its way around Burgundy. They took the time to visit and taste at smaller and relatively unknown wineries. Also very important is that they tried out lots of little restaurants. It is always a sport to find that spot that offers great quality for a good price, explains owner Smits. This means that, like in Alsace, JSwinetours can add a great lunch and or dinner on a "one day tour" and offer the whole package still for a reasonable price.
JSwinetours can also be of service to wine and food lovers that would like to get to know Alsace and Burgundy in one tour package.
JSwinetours has specialized in 3 wine areas: Alsace, Burgundy and Tuscany.
Owner Smits is living in France, quasi in between Alsace and Burgundy. Tuscany has been a holiday location for over 25 years.
Luxury tours 2015 - the tour planning
JSwinetours luxury wine & food tours are limited to groups of 8 people. The tours are hosted by professional wine tour manager Jacob Pieter Smits.
For the Alsace tours the guests will stay in a 4* hotel in Colmar.
For the Tuscany tours the guests will stay in a 4* hotel in Siena.
Transport is always by a luxury private air-conditioned minibus.
· Tuscany tour I will be from 26-30 Mai
· Alsace tour I will be from 8-12 September
· Tuscany tour II will be from 5-10 October
Alsace City and Genealogy Tours
Although JSwinetours started focusing on wine tours a couple of years ago, more and more times people asked them to do something different too, like helping with the exploration of family roots in Alsace. This made JSwinetours decide to add "Alsace City and Genealogy Tours" to the program with visits to Strasbourg and Colmar but also to smaller villages like Equisheim, Kaysersberg, Riquewihr and Turckheim.
About JSwinetours
JSwinetours stands for JoliSoleil wine tours or Jacob P. Smits wine tours.
After emigrating from the Netherlands to France in 2003, Jacob P. Smits first started a holiday house rental company. Being close to Alsace and Burgundy people began to ask him for guidance on visiting wineries and touring the region. As this happened more frequently every year and as wine has always been a hobby of Smits, he decided to make it his full time occupation in 2009.
Smits is also available for wine and gourmet tastings and (wine) marketing presentations in the Netherlands and California.
He is an active user of several social media and publishes about food and wine on his JSwinetours blog.
JSwinetours – JoliSoleil Guided Tours - Siret 45203853200027
11 route de Lambertfeing, 88530 La Forge – France
Phone in France: +33 (0)9 61 07 52 37
Phone in USA: + 1 (0)5 59321 72 68
http://jswinetours.com
http://jsweinreisen.de
http://jswijnreizen.nl
Contact
JSwinetours
Pieter Smits
+33672120319
jswinetours.com

Contact
Multimedia
Press release wine travel program for the 2015 season