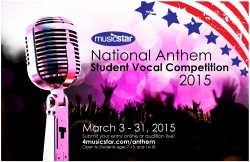 Los Angeles, CA, March 02, 2015 --(
PR.com
)-- National Anthem Vocal Competition
Calling Singers, ages 7-18!
MusicStar launches the National Anthem Student Vocal Competition 2015 on March 3rd, National Anthem Day! Two entry categories are available, one for ages 7-13, and one for ages 14-18. There is no cost to enter. Prizes include opportunities to perform the National Anthem at sports events and civic affairs, plus a variety of other in-kind and cash prizes.
The purpose of the National Anthem Student Vocal Competition is to support the art of singing the American National Anthem. "The Star-Spangled Banner" is a very challenging piece of music due to its wide melodic range, says CEO of MusicStar, Eckart Seeber. "Even professional singers have had their struggles with this anthem. This competition is an opportunity to scout the student landscape for talented vocalists who are able to interpret the anthem well," says Seeber.
The Competition is open for online entries as well as live auditions. For more information check out the website:
http://www.4musicstar.com/anthem
or call 951-780-5365. Good Luck!
MusicStar provides music education and school music programs.
Eckart Seeber
MusicStar
15790 Prairie Way
Riverside, CA 92508
Cell: 818-209-5434
Tel: 951-780-5365