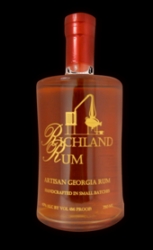 Atlanta, GA, March 02, 2015 --(
PR.com
)-- The Richland Distilling Company announced today that its Single Estate Old Georgia Rum has won two Gold Medals at significant Global Tasting Events in China and Spain. At the China Wines and Spirits Awards (CWSA) in Hong Kong, Richland Rum was honored with a Gold Medal and received 'Best Value' and 'American Spirit of the Year' connotations. The Catavinum World Wine and Spirits Competition (CWWSC) in Madrid, Spain awarded Richland Rum a 'Gran Oro' Medal, reflecting placement in the highest rating category.
The Hong Kong and Madrid top ratings follow Gold Medals recently awarded by The Beverage Testing Institute (BTI) and won at the Los Angeles SIP Awards, the Fifty Best Awards and the Craft Spirits Awards.
Richland Rum's Exceptional American Heritage: Authentic, Pure and Local
Richland Rum's unique heritage is rooted in authenticity, purity and genuine artisanal Field-To-Glass production. Only two base ingredients are used: pure, unrefined sugar cane syrup and water. The syrup is sourced locally, including from cane grown at the proprietor's Estate 'Vennebroeck'. Water is drawn from the Georgia Aquifer. Other than proprietary yeast to set off a slow fermentation process, never any additives are used. Distillation in copper pot stills is conducted manually in single day batches and the Rum is aged in virgin American oak barrels. There is no fixed ageing period; each barrel is allowed to determine its own maturity – which usually presents itself in two to three years - and then bottled individually at the Distillery.
Richland Rum: Leading The Rum Renaissance
"We are so excited to see how the come back of the 'Once & Future King of Spirits' – Authentic Rum – is broadly celebrated, not only among rum connoisseurs, but increasingly by bourbon, scotch and cognac aficionados and is recognized on an international scale," said Erik Vonk, proprietor of the Richland Distilling Company. "We have been developing our sole product – Single Estate Old Georgia Rum – since 1999, without ever compromising on quality, purity and authenticity and with simply one goal in mind: to make the best Rum in America." Vonk went on to say: "While we may be on a never ending quest, it is an honor and a pleasure to see Richland Rum, produced in rural Georgia, leading the Rum Renaissance and receive prestigious accolades not only in America, but also in Asia and Europe."
The Richland Distilling Company and Vennebroeck Estate are located in Richland, 140 miles South of Atlanta, Georgia, USA. The Distillery welcomes visitors and share the Pride and Passion behind Richland Rum.