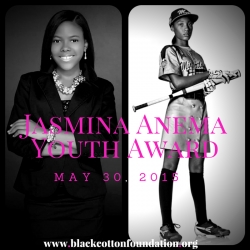 Newark, NJ, March 04, 2015 --(
PR.com
)-- The Black Cotton Foundation announced today that 13-year-old AP Female Athlete of the Year Mo'ne Davis will be its second recipient of its Jasmina Anema Youth Award later this spring, joining 15 year old CEO and best-selling author Gabrielle Jordan. The Jasmina Anema Youth Award is given to an extraordinary young person that goes above and beyond to improve society's quality of life and community. It is a special award that serves to recognize an outstanding youth, while motivating others to believe in and achieve their dreams.
Mo'ne Davis captivated the world with her amazing run at the Little League World Series in 2014. She was the first African American female to play in the Series and became the first female pitcher to win a game and pitch a shutout in Little League World Series History, becoming the first Little Leaguer to be on the cover of Sports Illustrated. The Philadelphia native was also named Sports Illustrated Kids' "Sports Kid of the Year" for 2014, and has her Little League World Series jersey displayed in the Baseball Hall of Fame. She is currently playing for her high school's Varsity Basketball team as an 8th grader, and has an autobiography due to be released later this month.
"Today is a great day for the Black Cotton Foundation and we are absolutely ecstatic!" beams Black Cotton Foundation's President and Founder, Raheim Singleton. "For our organization to be able to present both Mo'ne Davis and Gabrielle Jordan with the Jasmina Anema Youth Award is beyond our wildest dreams! Most of all today is a great day for Jasmina's mother, Theodora, and the Anema family knowing these two outstanding young women will now be a part of Jasmina's legacy. We are thrilled to have these two bright stars as our first recipients, and we hope that this will inspire and motivate the children who will be in attendance to dream big and strive for greatness. I don't think we could have a better birthday present for Jasmina today."
Both Mo'ne Davis and Gabrielle Jordan will be presented with this award during an award ceremony on Saturday, May 30th in New York City. For more information about the Black Cotton Foundation, or the Jasmina Anema Youth Award, please call 718-415-0523 or visit www.blackcottonfoundation.org.
About The Black Cotton Foundation: The Black Cotton Foundation is a community-related, 501(c)(3) non-profit organization based in Newark, NJ. Its mission is to promote and produce programs and events that will have a positive and profound impact in our community, and to educate people through 'observation and participation.' Their programs and events are geared to benefit the poor and working class communities of New York and New Jersey—specifically focusing on children by teaching them unity and teamwork—and helping them to build a supportive community.
About Jasmina Anema: Jasmina Anema was a spunky and charismatic 6-year-old girl from New York City who was diagnosed with a rare form of leukemia in 2009. Her brave fight inspired many people, amazingly resulting in over 10,000 bone marrow donors on her behalf, saving the lives of at least 21 people. Her incredible story touched countless number of people, including celebrities like Rihanna and President Barack Obama. Unfortunately, Jasmina lost her battle to leukemia on January 27, 2010. To learn more about Jasmina, please visit www.oneforjasmina.org.