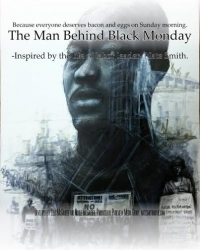 Philadelphia, PA, March 11, 2015 --(
PR.com
)-- "The Hire Me or Run Me Over" crowdfunding campaign kicked off on Indie Gogo on March 9, 2015 for the Nate Smith screenplay entitled, "The Man Behind Black Monday." The producers of Parkview Media Group, Ellis R. McGruder III and Nicole McGruder are seeking to raise $50,000 to cover the final development costs of the screenplay. The screenplay is inspired by events from the life of Pittsburgh civil rights maverick, Nate Smith.
Go to natesmithmovie.com to find out more about the campaign and learn about the significance of the efforts of Nate Smith.
Ellis McGruder has a personal connection to the story, as he is the son of Smith's right-hand man. He is determined to make sure the world is re-introduced to the late, great, Nate Smith and his maverick approach to racism and unjust hiring practices.
Ellis states, "Unfortunately statistics show that almost four decades later, our country still suffers from those things that Smith fought hard against: unemployment, underemployment, and unjust wage disparities. It's my duty to Nate and my father to make sure their efforts are etched in the tablets of history where they belong. A successful fundraising campaign will make my mission a little smoother. I've been so pleased with the support I've been receiving from my hometown of Pittsburgh that I know we'll reach our goal and get this screenplay to the big screen."
For additional information or interview requests, contact Ellis R. McGruder III at ellismcgruder@parkviewmediagroup.com or 1-877-241-3508.
Contact:
Ellis McGruder
President, Parkview Media Group 1-877-241-3508
ellismcgruder@parkviewmediagroup.com