McFadden's in Addison is Preparing for a Huge Night in Anticipation for the Fight of the Century on Saturday, May 2, 2015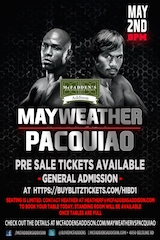 Addison, TX, April 22, 2015 --(
PR.com
)-- As all of the world waits in anticipation for the "Fight of the Century," bars throughout the Dallas-Fort Worth area are preparing for a huge night. On Saturday May 2, the world will all be coming together to watch the Mayweather and Pacquiao boxing match. McFadden's in Addison, Texas has recently announced they will have a watch party with tickets for $20 online and starting at $25 at the door.
"We've already started stocking up on beer and liquor purchases and expect to reach capacity before the fight even begins," said Neil Mawad, General Manager of McFadden's in Addison. Not many other bars in Addison will be showing the fight, so McFadden's in expecting a large turnout for the night. They have already partnered up with local hotels to send even more guests their way on Saturday, May 2, 2015.
Currently the establishment has been promoting day and night for their watch party and have booked almost every table in the building. "Once all the tables are reserved guests will be able to watch the fight in our standing room only sections, but no one has to worry about a bad seat because we have over 40 HD TVs throughout the building," said Heather Foust, Sales and Marketing Director for McFadden's in Addison.
McFadden's in Addison is promoting a different experience than other bars in DFW who will be showing the fight by offering discounted pre-sale tickets and will have a DJ playing immediately after the fight is over. McFadden's will have a limited menu to guarantee fast service and less wait time for any food orders and will even have a small appetizer for each table who comes into the building. With 2 full service bars, beer tub stations, and satellite bars they are ready to provide fast service for everyone in the building.
McFadden's boasts a capacity of over 650 guests, with 2 patios, 2 full service bars, and 5 designated party areas. They're open Monday through Thursday from 4pm-2am, Fridays 11am-2am, Saturday and Sundays 10am-2am and offer attractive happy hour and late night specials.
More information regarding the event as well as the venue can be found on McFadden's website at https://buyblitztickets.com/hiBD1 or by calling (469) 206-3610.
McFadden's is located at: 4050 Beltline Rd. Addison, TX 75001
Hours: Monday – Thursday 4pm-2am; Friday 11am-2am; Saturday and Sunday 10am-2am
Contact
McFadden's Addison
Heather Foust
469-206-3610
https://buyblitzstickets.com/hibd1
www.mcfaddensaddison.com

Contact