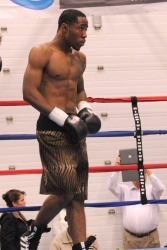 Patterson, NJ, March 12, 2015 --(
PR.com
)-- Young General Ian Green's third fight is all lined up. Green 2(2)-0 will be fighting middleweight Jesse Noriega 3(3)-12(4)-0 on Saturday, March 28th at ABC Sports Complex in Springfield, VA.
The Young General, who formerly went by the moniker About That, looks to build off of his impressive victory against the veteran Nathan Petty back on 12/20/14. Green currently has a 100% first round TKO ratio and would be thrilled to keep it that way.
"I've been training real hard and March 28th will be just another building step in my boxing legacy," said Green.
"The kid is real exciting to watch. We don't fully know what he is capable of until he gets some more fights under his belt, but we're pretty confident the sky's the limit," said Chris Oliveras, General Partner at Kran Sports. (www.kransports.com)
For more information on Young General Ian Green you can visit his website (www.iangreen93.com) or follow him on Twitter (@iangreen93).
For endorsement deals or more information about Ian's management company, please visit www.kransports.com.