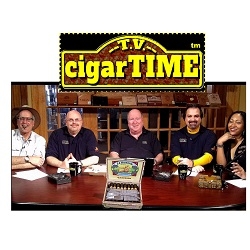 Horsham, PA, March 12, 2015 --(
PR.com
)-- "It's always time for a fine cigar." That's the slogan and the philosophy of cigarTIME TV, the first and only broadcast television show dedicated entirely to cigars. The show airs Tuesday nights at 7:30 on WMCN TV (channel 44 in the Philadelphia ADI) and can also be found on Comcast, Verizon/Fios, DirectTV & DishNetwork. The show is available in 2.7 million homes in the Philadelphia market, and millions more on the internet.
"We wanted to reach out exclusively to premium cigar smokers," said Arthur Toll of the cigarCIGARS retail chain and the show's creator, "there just wasn't a venue for doing that in a targeted way, so we created our own, and it took off."
The program began as a half-hour radio show, grew to a full hour after six months, and graduated to television six months after that. The television show has been on-air for nearly a year and a half. CIGARtime TV follows a talk-show format, with a core panel of 5 cigar lovers and industry veterans, who range freely (and without scripts) across the entire spectrum of cigar related topics. Each episode also takes an in-depth look at a particular cigar, which the panel then rates. "Our real opinions, our real banter," said Robert Pascucci, a panelist on the show, "we say what we think, and we say it the way we want to. That makes it more fun for the viewers and for us."
"Its almost baffling how we create an entire 30 minute show, every week, with nothing more than a cigar to rate, a few tasting notes and our own back and forth," added Scott Atkinson, another panelist.
Aside from general, cigar-related discussion and the reviews, the show includes a weekly behind the scenes look at the world of tobacco and cigarmaking, called "Paul-In-The-Fields," with Paul Magier. There are also frequent guest appearances by cigar industry celebrities such as Nick Perdomo (Perdomo Cigars), Alan Rubin (Alec Bradley Cigars), Larry Palumbo (Altadis) and many more. "Of course, we've become celebrities in our own right" said Tia Calhoun, the show's lone female "people stop me on the street or send me emails all the time. They like seeing me take on the grumpy old men and hold my own."
The show's following has expanded well beyond Philadelphia, with cigar shops throughout the northeast playing it in their stores, and talks underway to air the show in additional cities. "Our primary goal," Toll said further "is to promote brick & mortar cigar shops everywhere."
For more information, contact Arthur Toll at cigarTIME TV, 215-328-0500
cigarCIGARS has ten retail locations, ranging from the suburbs of Philadelphia to as far west as Lancaster, PA and as far north as Central New Jersey. Each has a smoking lounge, a large walk-in humidor and literally thousands of cigars, including all of the major brands and the best of the hard-to-find and boutique cigars.