Dynamics Software Celebrates Their 10th Anniversary
Dynamics Software announced today the kick-off of their 10th Anniversary celebrations during Microsoft Convergence 2015 in Atlanta. From its Independent Software Vendor roots established in 2005, Dynamics Software has transformed their business to deliver industry and vertical solutions (IP) and premier consulting and support services.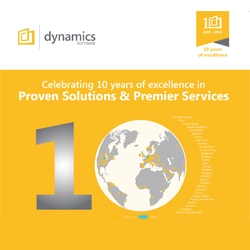 Atlanta, GA, March 16, 2015 --(
PR.com
)-- During the Microsoft Convergence 2015 event in Atlanta, Dynamics Software will celebrate their 10th anniversary from 6pm – 8pm at booth 1516 at the Georgia World Congress Center.
Special guest Victor Morales, Vice President Microsoft Dynamics Partner Sales & Programs will kick-off the celebrations. The celebrations are expected to be attended by several other key Microsoft leaders as well as valued customers, strategic partners and a large number of the Convergence Event attendees.
"I am delighted to help kick-off the celebrations of Dynamics Software's 10th Anniversary," said Victor Morales, Vice President Microsoft Dynamics Partner Sales & Programs. "Dynamics Software has been recognized by Microsoft as a high-performing partner that continues to grow and succeed by delivering great value to customers. We applaud Dynamics Software for their achievements, their exceptional commitment and expertise, and their steadfast dedication and support of Microsoft Dynamics solutions this past decade."
Dynamics Software provides business solutions which are industry and vertical focused and based on Microsoft Dynamics® AX and CRM as well as solutions using Office 365, SharePoint and Azure. In addition, Dynamics Software delivers Premier Services with domain experts focusing on consulting services such as Business & Technology Services, Project Services and Support Services.
Dynamics Software has been working closely together with Microsoft and its partners in all phases of the project and customer lifecycle developing and implementing sustainable solutions that deliver results for customers since inception.
In 2014, Dynamics Software has once again been named to the Microsoft Dynamics President's Club. This achievement is a direct result of Dynamic Software's outstanding dedication to customer satisfaction through the delivery of innovative business solutions.
Dynamics Software is part of the HSO Group, a leading global system integrator and provider of innovative enterprise solutions, winner of the 2014 Microsoft Dynamics ERP Partner of the Year Award.
"I am proud to celebrate the 10th anniversary of Dynamics Software," said Peter ter Maaten, CEO Dynamics Software and HSO Group. "Established in 2005, Dynamics Software has been working hard to deliver its vision of providing powerful solutions to hundreds of customers worldwide to amplify their business. Dynamics Software has evolved in the last decade offering more industry and vertical focused agile solutions supported with premier services and works closely with customers to address their needs. This 10th anniversary is truly a landmark event we proudly celebrate!"
"It is a very special moment in time, celebrating our 10th anniversary," added Eric Veldkamp, Partner and Executive Director Sales & Marketing Dynamics Software. "What an incredible journey these last 10 years have been as we covered the globe across diverse industries, cultures and businesses to empower our customers with solutions that continue to help them achieve their goals. We have established long lasting relationships with Microsoft and our key partners worldwide in 33 countries and look forward to celebrating many more anniversaries in the years to come!"
Dynamics Software offering includes:
Dynamics Service – Turning your service organization from a cost center into a profit center
Dynamics Maintenance – Increasing overall equipment effectiveness with optimized up-time & utilization
Dynamics Rental – Maximizing use, utilization & tracking of assets and driving rental revenue with additional services
Dynamics Fashion – Business accelerating solutions for the Fashion industry
Dynamics CRM Productivity – Outsell your competitors across all channels
Dynamics ERP Productivity – Adding value to your ERP implementation
And Premier Services – advice, consultancy and support for all phases of the solution lifecycle
For more information, visit dynamicssoftware.com.
Contact
Dynamics Software
Monisha Ghosh
+31318507800
www.dynamicssoftware.com
+31646811261

Contact