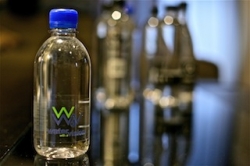 New York, NY, March 16, 2015 --(
PR.com
)-- Water with a Vision (WWAV),
www.waterwithavision.com
an innovative Water Advertising Company, which focuses on disseminating companies and organization's mission statement/slogan on personalized bottled water, today announced that it has reached an agreement with Fresh&CO for the distribution of personalized bottled water.
Attention to detail is truly the key to exceptional marketability and being remembered in business. Water with a Vision takes pride in using one of the top commercially consumed beverages in the United States to successfully position your campaign, brand, and/or mission statement. From promotional giveaways to tone-setting office fixtures, "Personalized bottled water is a universally appropriate marketing tool for any company," says Jean Maurilus, CEO at Water with a Vision.
Although water is essential to life, unfortunately not everyone has access to clean water. Water with a Vision is focused on making a global impact, which is why they joined forces and partnered with WATERisLIFE, www.WATERisLIFE.com. WATERisLIFE is a not for profit organization that helps provide clean water to those in need in over 32 countries.
Water with a Vision donates a portion of its proceeds from each bottled sold to WATERisLIFE to ensure that both organizations remain impactful.
About Fresh & CO.
Fresh & CO, http://freshandconyc.com is a fast casual-restaurant located in the Metro New York area that serves and promotes healthy eating. Whether you are in a hurry or just compensating for a weekend indulgences, Fresh&Co has your nutritious, wholesome and tasty meal that meets the needs and standards of any health seeking individual.
From their slogan "Just made. just for you"(TM), to their seasonal signature chopped salads to a wide variety of homemade soups, and freshly-made sandwiches Fresh&Co continues to evolve based on customers tastes and requests.
Not only does Fresh&CO serves great tasting food, but Fresh&CO is consciously involve in making an impact in our community.
"We love our city, and we're proud to do what we can to feed and nourish every New Yorker," says Ty Sullivan marketing director.
Fresh&Co actively supports and donates food, time and money to the following:
No Kid Hungry: http://www.nokidhungry.org
Friends of Karen.org: http://www.friendsofkaren.org
City Harvest: http://www.cityharvest.org
To purchase their product or to learn more about Water with a Vision's culture and purpose, please call 516.400.9888 or visit us at www.waterwithavision.com
About WATERisLIFE: WATERisLIFE's mission is to provide clean water, sanitation and hygiene programs. Saving Lives. Transforming Communities.
About No Kid Hungry: The No Kid Hungry campaign connects kids in need with nutritious food and teaches their families how to cook healthy, affordable meals. The campaign also engages the public to make ending child hunger a national priority.
About Friends of Karen: Friends of Karen's mission is to provide emotional, financial and advocacy support for children with a life-threatening illness and their families, in order to help keep them strong, functioning and able to cope.
About City Harvest: City Harvest exists to end hunger in communities throughout New York City. We do this through food rescue and distribution, education, and other practical, innovative solutions.