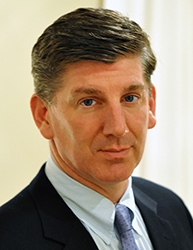 New York, NY, March 17, 2015 --(
PR.com
)-- Simparel, Inc., the leader in next-generation ERP, PLM and Enterprise Solutions for fashion and consumer goods brands, manufacturers and retailers, has appointed Ken Fearnley to the position of Chief Technology Officer. Fearnley brings more than 20 years of experience in managing the strategy, development and support of PLM, R&D, Mobile and other software applications within the fashion technology, discrete manufacturing and life sciences industries. Working from the company's New York City headquarters, he will set the strategic vision and direct the development of all current and future Simparel software solutions.
According to Simparel Chief Executive Officer Steve Vogel, "Simparel is recognized as a technology leader; Ken Fearnley secures and extends this leadership. He began creating web and cloud applications for industry leaders over a decade ago; long before any of us knew they would become mission critical. His accomplishments in driving product innovation in mobile and web applications, combined with continuous improvement and software development best practices, are integral to the strategic roadmap of the Simparel product portfolio. Ken brings the blend of technological expertise and understanding of industry applications that will deliver massive return-on-investment and lead our industry forward."
Fearnley most recently served as Director of Global IT, PLM Application Services for Johnson & Johnson, where he was part of the executive leadership team that established an IT shared service organization to provide software development and managed support services across the business. As a Director of R&D at Dassault Systemès, Ken held organizational R&D responsibility for three PLM Product development groups within ENOVIA and served as a subject matter expert on emerging web technology trends and web based user experience optimization. Prior to being acquired by Dassault Systemès, Ken served as Senior Manager of R&D at MatrixOne Inc., where he architected web framework and the company's first web-based PDM/PLM application.
"I am excited with the opportunities that we have in front of us at Simparel," added Fearnley. "While we are already recognized for our next-generation technology, we now look to leverage that advantage to bring an even greater value proposition to the industry through advanced PLM, ERP and other capabilities as well as improved customer usability and visibility across the entire fashion enterprise. I look forward to thriving with Simparel."
Ken holds a BS in Computer Science/Communications from Charter Oak College, a MS in Information Technology from Sacred Heart University, and a MBA in IT Management from the University of Massachusetts.
About Simparel
Designed for the apparel, footwear, accessories, home furnishings and other soft goods industries, Simparel empowers brands, manufacturers and vertical retailers to reach their full potential by accelerating and improving performance across the entire business and global supply chain. The Simparel Enterprise Solution provides global process visibility, control and collaboration by combining traditionally independent Product Lifecycle Management (PLM), Sourcing & Supply Chain Management (SCM), Materials Requirements and Manufacturing Planning (MRP), Electronic Data Interchange (EDI), Warehouse Management (WMS) and other productivity tools into a single, fashion-focused business system.
The fully integrated end-to-end functionality of Simparel keeps teams and vendors working on the same page. Real-time visibility into product development, orders, inventories, production and supply chain processes enables users to make more informed decisions - faster - across the entire business. The next-generation Simparel software architecture is simpler to deploy and offers greater scalability, performance and total cost of ownership than traditional enterprise solutions. Clients routinely report cost reductions and increased agility and responsiveness across their product development, sourcing, manufacturing, distribution and other business processes with Simparel. For more information, visit
http://www.simparel.com
.
Simparel is a registered trademark of Simparel, Inc.
ENOVIA is a trademark of Dassault Systèmes.
All other trademarks and service marks are the property of their respective owners.