Multilingual Millennial's Movement Empowers Y & Z Generations
Are Millennials the lost generation? Mention Millennials, Generation Y or 20-Somethings and debate ensues over whether young Americans are the best generation yet or their promise precedes their good deeds.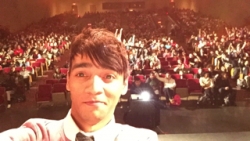 Boston, MA, March 18, 2015 --(
PR.com
)-- While politicians, educators, journalists and many other Americans are divided over the Millennial Generation and its impact on the greater good, there's a Millennial sure to unite believers and non-believers alike... 21-year-old multilingual CEO, award-winning author, composer, international charity founder and Whittier College senior,
R.J. Tolson
. At only 18 years of age, Tolson founded an international charity, Forever Trust, which supports 58 U.S. based international relief and development organizations; became CEO of a multi-divisional corporation with more than 100 employees; and, published an award-winning coming of age science fiction and fantasy genre novel, "Chaos Chronicles Book 1: Zephyr The West Wind."
Want to learn more about this multilingual Millennial R.J. Tolson, his ever expanding ventures and movement to empower Generation Y and Z? Live Wednesday, March 18th 7 p.m. at Curry College in Milton, MA Tolson discusses his path to success, published works, business ventures,
National Literacy Campaign
and interconnectedness of success and innovation.
Contact
Woods & Associates Management Firm
Eloise Woods
866-862-1932
www.woodsandassociates.net/

Contact