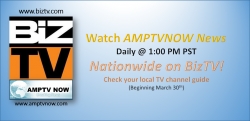 Fresno, CA, March 20, 2015 --(
PR.com
)-- The influx of over-the-air (OTA) digital TV channels is allowing niche programming to cater to national TV audiences who no longer need cable to get the crux of their news and entertainment.
From untamed sports to a gamut of niche news, digital TV has spawned a new era for indie production companies such as Ann Marie Production, who is co-partner to newly formed network, Ann Marie Production Television Network, LLC (AMPTN.)
Seeing a need for quality urban news and business information on OTA broadcast channels, AMPTN wanted to fulfill the niche that can only be sought currently through cable and satellite broadcasts stations.
AMPTN asked national TV channel, BizTV, who also streams online to over 75 countries, to be their provider of new TV urban news program, AMPTVNOW News, the other source. BizTV currently broadcasts nationwide to over 30 million television viewers.
AMPTVNOW News, the other source, is a unique news program that brings into focus the highlights of trending online news in the African-American diaspora, accentuated with relevant business experts and inspirational guests who give tips and advice for viewers wanting to enhance their lives and businesses.
AMPTVNOW News, the other source begins airing on BizTV daily at 1:00 PM PST, March 30th. Check your local TV guide for the TV channel information or watch online live: www.biztv.com. Repeat broadcast can be found at www.live.amptvnow.com.
AMPTVNOW News, the other source show trailer:
http://youtu.be/eaqYRCuwpIM
For media inquiry and updates, contact AMPTV: (559) 242-6788 or media@amptvnow.com