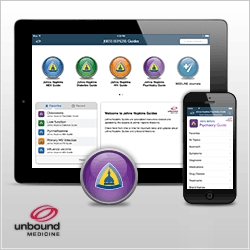 Charlottesville, VA, March 24, 2015 --(
PR.com
)--
Unbound Medicine
, a leader in knowledge management solutions for health care, has extended its digital publishing relationship with Johns Hopkins Medicine through the release of the Johns Hopkins Psychiatry Guide.
This new resource was developed by a team of physicians at the world-renowned Johns Hopkins Henry Phipps Psychiatric Clinic using Unbound's online authoring system, uPub™, then published to the Unbound Platform for distribution on the Web and mobile devices. The psychiatry guide is the latest in a series of clinical decision support resources that bring trusted information to health care professionals at the point of care. Other resources in the series include the award-winning Johns Hopkins antibiotics (ABX), diabetes and HIV guides.
Under the supervision of J. Raymond DePaulo Jr., MD, director of the Department of Psychiatry and Behavioral Sciences, and Joseph Bienvenu, MD, director of the Psychiatry Residents' Outpatient Continuity Clinic, authors at the Phipps Clinic used the Unbound Platform to bring the comprehensive psychiatry guide from concept to publication in a little more than a year.
"The uPub authoring system was easy to use and enabled the creation of the psychiatry guide in a very short time," says DePaulo, the Henry Phipps Professor of Psychiatry. "We are excited to share our clinical expertise in a modern, continually updated format to guide clinicians and trainees who diagnose and treat mental health disorders."
The Johns Hopkins Psychiatry Guide was released on both the official
Hopkinsguides.com
website and as a native app downloadable to mobile devices running Apple and Android operating systems. Working closely with the Johns Hopkins
Point of Care Information Technology Center
(POC-IT Center), the Unbound team fully integrated the new psychiatry guide with existing Johns Hopkins guides and launched it worldwide to institutional site-license customers and individual users.
"The vision we share with the POC-IT Center is to combine Johns Hopkins' medical expertise with Unbound's informatics and technology knowledge to help clinicians answer clinical questions wherever they arise," says Bill Detmer, MD, president of Unbound Medicine. "We are excited to publish the work of the Phipps Clinic, which has a remarkable 100-year history of educating psychiatric professionals and treating mental health disorders."
About Unbound Medicine
Unbound Medicine
builds digital products that answer clinical questions at the point of need. With expertise in medical informatics, health technology and medical publishing, our team has delivered innovative mobile and Web solutions to health care institutions and individual clinicians for more than 15 years. Additional information is available at www.unboundmedicine.com.
About Johns Hopkins Medicine
Johns Hopkins Medicine (JHM), headquartered in Baltimore, Maryland, is a $7 billion integrated global health enterprise and one of the leading academic health care systems in the United States. JHM unites physicians and scientists of the Johns Hopkins University School of Medicine with the organizations, health professionals and facilities of The Johns Hopkins Hospital and Health System. JHM's vision, "Together, we will deliver the promise of medicine," is supported by its mission to improve the health of the community and the world by setting the standard of excellence in medical education, research and clinical care. Diverse and inclusive, JHM educates medical students, scientists, health care professionals and the public; conducts biomedical research; and provides patient-centered medicine to prevent, diagnose and treat human illness. JHM operates six academic and community hospitals, four suburban health care and surgery centers, and more than 39 primary and specialty care outpatients sites under the umbrella of Johns Hopkins Community Physicians. The Johns Hopkins Hospital, opened in 1889, has been ranked number one in the nation by U.S. News & World Report for 22 years of the survey's 25-year history, most recently in 2013. For more information about Johns Hopkins Medicine, its research, education and clinical programs, and for the latest health, science and research news, visit
www.hopkinsmedicine.org
.