Spree SmartCap Receives 2015 Wearable Product of the Year Award
Cutting-edge fitness monitor honored for exceptional innovation in wearable tech.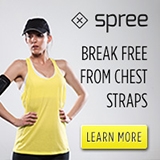 Dallas, TX, March 24, 2015 --(
PR.com
)-- Spree Wearables, maker of the world's smartest fitness monitor, announced today that the Spree SmartCap has been named a 2015 Wearable Technology Product of the Year Award winner.
The annual awards program is run by TMC, a global, integrated media company that helps clients build communities in print, in person and online. Results are published on Wearable Tech World.
"This is yet another wonderful recognition for our SmartCap, which is steadily gaining notoriety for providing cutting-edge fitness monitoring capability while setting athletes free from their uncomfortable chest straps," said Peter Linke, president of Spree Wearables. "It's a truly revolutionary product, which this latest award underscores."
Recognized as a "Best in Show" product by Sports Illustrated at the 2014 International Consumer Electronics Show in Las Vegas, Spree is the first and only fitness device that tracks heart rate without the use of a cumbersome chest strap, and monitors body temperature, movement and a variety of additional metrics as well. The Spree SmartCap is so easy to use and comfortable, it does what most wearables fail to do: It becomes a natural extension of the athlete's body.
"It gives me great pleasure to honor Spree Wearables as a 2015 recipient of the Wearable Technology Product of the Year Award," said Rich Tehrani, CEO of TMC. "Our judges were very impressed with the ingenuity and excellence displayed by Spree's groundbreaking work on the SmartCap."
Developed by Dallas-based Spree Wearables, Inc. (formerly Hothead Technologies, Inc.), the Spree SmartCap stands apart from other fitness monitors by analyzing the three most important variables in every fitness routine – body temperature, movement and heart rate – all in one easy-to-use device. The unique design measures directly from the forehead using medical grade technology. The SmartCap also insulates from the sun, and because the device measures temperature as an added component, it provides a true measurement of caloric burn along with heart rate.
About Spree Wearables
Based in Dallas, Texas,
Spree Wearables
(formerly Hothead Technologies, Inc.) is a leading provider of wireless biosensor solutions, including the revolutionary Spree SmartCap. Its patented and proprietary systems are at the forefront of performance measurement systems and are currently used to help prevent heat-related illness in athletes, firefighters and industrial workers. Spree Wearables is a wholly owned subsidiary of IDENTEC Group AG. Spree Wearables' solutions have earned national recognition, including Popular Science magazine's prestigious "Best of What's New" Award.
About IDENTEC GROUP
IDENTEC GROUP is a leading, advanced wireless solutions provider that capitalizes and grows companies in global business-to-business and business-to-consumer wireless markets. Recognized worldwide for its patented, award-winning wireless solutions in a multitude of industries, IDENTEC GROUP member companies develop and market innovative wireless solutions that identify, measure, track and trace assets and people across the value chain, delivering actionable information through the cloud. IDENTEC GROUP works with its member companies on issues ranging from capitalization and development of business models and strategies to operations and shared technology, sourcing efficiencies and mutual customer relationships. For more information, visit identecgroup.com.
About TMC
TMC is a global, integrated media company that supports clients' goals by building communities in print, online, and face to face. TMC publishes multiple magazines including Cloud Computing, IoT Evolution, Customer, and Internet Telephony. TMCnet is the leading source of news and articles for the communications and technology industries, and is read by as many as 1.5 million unique visitors monthly. TMC produces a variety of trade events, including ITEXPO, the world's leading business technology event, as well as industry events: Asterisk World; AstriCon; ChannelVision (CVx) Expo; Customer Experience (CX) Hot Trends Symposium; DevCon5 - HTML5 & Mobile App Developer Conference; IoT Evolution Conference & Expo; SmartVoice Conference; Software Telco Congress; Super Wi-Fi Summit - The Global Spectrum Sharing and TV White Space Event; SIP Trunking, Unified Communications & WebRTC Seminars; Wearable Tech Conference & Expo; Fitness and Sports Wearable Technology (FAST) Expo, WebRTC Conference & Expo; and more. Visit TMC Events for additional information.
For more information about TMC, visit www.tmcnet.com.
Contact
Spree Wearables, Inc.
Ladd Biro
972.930.9933
www.spreewearables.com
Champion Management is proud to be the PR agency of record for Spree Wearables and the revolutionary Spree SmartCap fitness monitor.

Contact