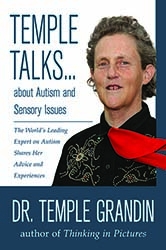 Arlington, TX, March 27, 2015 --(
PR.com
)-- April is National Autism Awareness Month, and Dr Temple Grandin is releasing a new resource just in time!
A new book, by Dr. Temple Grandin, titled, TEMPLE TALKS....about Autism and Sensory Issues: The World's Leading Expert on Autism Shares Her Advice and Experiences is coming out on April 4 to help spread autism awareness. A quick and affordable pocket guide, the book is drawn from Dr. Grandin's lectures, and contains enlightening information for children and adults, as well as a Q&A section.
1 in 68 children were identified with autism spectrum disorder, according to the latest data, and this rate only continues to increase. - The Centers for Disease Control and Prevention
Notable for her extensive advocacy, Dr. Temple Grandin talks about Autism and Sensory Issues. She tells how she overcame many of her challenges, gives functional and pertinent tips, and addresses questions in an easy to reference Q&A. Her advice and perspective is based on up-to-date research plus personal experience. In addition, the book exhibits illustrations that demonstrate the way people with autism think, as well as personal brain scans of Dr. Grandin.
Dr. Temple Grandin, a source of inspiration for autistic children, their parents — and all people, received Time magazine's 2010 choice of a "hero" in their annual TIME 100 issue, as they honor the "100 Most Influential People." Temple was recognized for her leadership role as an author, visionary, and speaker in the fields of autism and animal science, in which she is an advocate of the humane treatment and understanding of both.
"One problem today is that too many kids with autism do shut down and they shut down so much they risk becoming recluses. A psychologist recently explained it to me in a good way. He said that there is a tendency for their world to contract. Well, we must work on gently expanding their world. That's what I want to help you do with this book." -Dr. Temple Grandin
Some of the topics include:
· Desensitization to Loud Sounds
· Auditory Processing Problems
· Attention-Shifting Slowness
· Visual Reading Problems
· Hidden Medical Issues That Cause Behavior Problems
· Deep-Pressure Reduces Anxiety
· Plus, much more!
Publisher, Sensory World, A Proud Imprint of Sensory Focus, LLC. is pleased to announce Amazon's #1 New Release in Autism and Asperger's Syndrome, TEMPLE TALKS...about Autism and Sensory Issues.
TEMPLE TALKS...about Autism and Sensory Issues, is available from all fine booksellers.