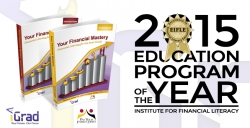 San Diego, CA, April 13, 2015 --(
PR.com
)-- "
Your Financial Mastery: Financial Literacy for the Real World
" received the Excellence in Financial Literacy Education (EIFLE) Award for 2015 "Education Program of the Year" from the Institute for Financial Literacy. The curriculum, a partnership between iGrad and Pay Your Family First, introduces students to core financial concepts and encourages them to apply their learnings in the real world.
For the second time in three years, iGrad has received recognition from the respected nonprofit institute. iGrad also received the EIFLE award for "Education Program of the Year" in 2013 for its online learning platform.
"It is an unprecedented honor to have our online platform recognized as the Education Program of the Year in 2013 and now the curriculum to be honored as the Education Program of the Year this year. Part of our mission is to be a well-rounded, full service financial literacy based company and these awards solidify our place as thought leaders in the industry," says Rob LaBreche, CEO of iGrad.
Your Financial Mastery was co-authored by Pay-Your-Family-First's best-selling Author Sharon Lechter, and Certified Personal Family Finance Educator (CPFFE) Angela Totman.
"The Your Financial Mastery curriculum is an exciting project because it covers information essential for financial success and then goes above and beyond the traditional topics that fall under financial education," Says Angela Totman.
The book covers everything from personal finance topics such as banking, budgeting, investing, insurance, and estate planning to more advanced concepts including explorations of financial aid, entrepreneurship, real estate investing, asset protection and charitable giving.
"In addition to traditional concepts like budgeting, credit, and insurance, we've addressed how mindset and value systems impact money habits, shined the light on entrepreneurship and acknowledged the changing dynamic of consumerism so that students have a comprehensive toolbox with which to build a solid financial foundation."
Your Financial Mastery employs the innovative "flipped classroom" approach, which empowers student learning by leveraging online video lectures, practical examples and instructor-led activities and discussions. The result is a significantly higher level of interaction and participant education, which is crucial for the behavioral changes needed to achieve the core competencies of financial literacy.
According to Lechter, a member of the first President's Advisory Council on Financial Literacy and the founder of Pay Your Family First, the curriculum provides practical and relevant education to address the pressing need for financial education in college and empowers students to become masters of their money rather than slaves to it.
Lechter - who is an entrepreneur, business strategist, bestselling author, international speaker, CPA, CGMA and philanthropist - is among iGrad's flourishing ensemble of expert columnists. She is co-author of the international blockbuster "Rich Dad, Poor Dad," as well as 14 other books in the "Rich Dad" series and has released several titles in cooperation with the Napoleon Hill Foundation, including most recent book project, "Think and Grow Rich for Women."
About iGrad:
iGrad partners with more than 600 schools nationwide to provide a financial literacy platform that connects more than 1.2 million students, as well as alumni and staff. iGrad is the only organization to offer a customizable, adaptive learning financial education platform with optional video-based student loan entrance and exit counseling. Recent accolades include:
· 2013 Outstanding Consumer Information Award, Association for Financial Counseling and Planning Education (AFCPE)
· Best Product of 2012, 2013, & 2014, University Business Magazine
· 2013 & 2015 Education Program of the Year, Institute for Financial Literacy