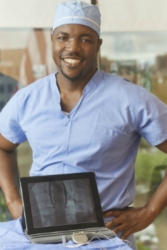 Dallas, TX, April 21, 2015 --(
PR.com
)--
Dr. Sean M. Jones-Quaidoo
has always strived to bring the most forward-thinking techniques and treatments to his patients and at his
SpineVue clinic
he is continuing this work in chronic pain management with his adoption of the new and innovative
CoverEdge Surgical Leads
.
CoverEdge Surgical Leads are designed to be used with the
Precision Spectra Spinal Cord Stimulation (SCS) System
in the treatment of chronic back pain by interrupting pain signals with electric pulses. CoverEdge Surgical Leads gained FDA and CE Mark approval in late 2014.
Dr. Jones-Quaidoo believes in the innovation of the CoverEdge Surgical Leads because they provide unparalleled pain coverage. As the world's first and only 32-contact surgical leads, CoverEdge blankets the spinal cord with twice the number of contacts offered by traditional systems. Additionally, the Precision Spectra SCS System and CoverEdge Surgical Leads are used in conjunction with Illumina 3D Software, an anatomy-based computer model that allows for more precise pain targeting.
"The CoverEdge 32-contact paddle allows for a larger stimulation field so you can get pinpoint coverage over multiple pain areas," says Dr. Jones-Quaidoo. "This technology is unique and can individualize the therapeutic signal down to a single contact to really pinpoint the therapy. We are talking about potentially hitting a bull's eye in obtaining pain relief."
Over 100 million Americans are currently living with chronic pain. CoverEdge Surgical Leads will bring welcome relief to patients that are suited to spinal cord stimulation therapy, particularly those with low back pain and pain in multiple areas.
Dr. Sean M. Jones-Quaidoo of SpineVue in Dallas, TX is a board certified orthopedic spine surgeon. He believes in providing comprehensive and compassionate care for his patients and treats them like family. The hallmarks of his treatment methods are physical therapy and nonsurgical care, using the most minimally invasive techniques possible when surgery is unavoidable. He strongly believes in promoting overall wellness and customizes care plan for each individual patient. Dr. Jones-Quaidoo was recently ranked in the top 1% of all doctors in the United States according to the
Press Ganey patient satisfaction survey
and continually strives to provide the best care for each and every patient.