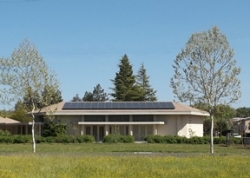 Novato, CA, April 21, 2015 --(
PR.com
)-- The solar photovoltaic system is roof mounted on the west facing roof of the Church's Burlingame Hall and consists of 48 LG 275-watt solar panels. The solar panels convert sunlight directly into electricity and is expected to generate approximately 17,969 kilowatt hours of energy annually, providing up to $4,700 in utility savings every year. Furthermore, Sonoma Clean Power's favorable rate for solar customers, which give credits for energy exported to the grid, will generate additional savings.
SolarCraft presented to the Church new financing options which are very favorable for non-profits and deliver sound financial returns. Essentially, the financing payments for the solar power are less than paying PG&E each month, with no upfront costs. The church is part of Interfaith Power and Light, a nationwide group of 1,800 churches working on climate change, and the first church in the Sonoma Valley to convert to renewable power.
The system's solar electric panels will spare the air nearly 6 tons of harmful greenhouse gases annually. Over 30 years, the air pollution saved will be equivalent to eliminating over 325,000 miles of driving or planting 6 acres of trees.
About First Congregation Church of Sonoma
Founded in 1869, the First Congregational Church of Sonoma, United Church of Christ is a diverse gathering of folk, many who would describe themselves as progressive Christians. The campus is shared with the Jewish Congregation Shir Shalom, where they live out the phrase on their sign that says "All are welcome." Their mission is to connect with and serve the community and world. Empowered by the spirit of God and the teachings of Jesus Christ, they seek peace and justice for all. www.sonomaucc.org
SolarCraft is one of the most trusted and experienced solar energy contractors in California. Since 1984, this certified Green Business has been providing high quality solar electrical, solar pool heating and solar water heating services to homeowners and businesses, employing licensed and certified solar installers. With more than 5,000 satisfied customers and over 2.5 million square feet of solar collectors installed, SolarCraft is committed to Quality Design, Quality Materials and Customer Service. www.solarcraft.com