The 2015 Geekie Awards Are Open for Submissions. Stan Lee Encourages Indie Filmmakers, Comic Book Creators and Artists to Enter.
The 3rd Annual Geekie Awards opens the doors for submissions, calling indie comic book creators, filmmakers, video game developers, tabletop game designers and artists from around the world to enter their work. With a new event concept and more public interaction, The Geekies has truly become a show #ByGeeksForGeeks.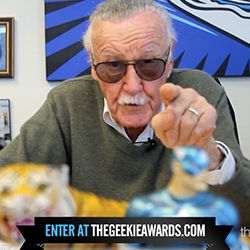 Los Angeles, CA, April 24, 2015 --(
PR.com
)-- The Geekie Awards are back again; the awards show by Geeks for Geeks that allows you to showcase your inner geek! Last year The Geekies were super charged with appearances from Stan Lee, Jason Ritter, LeVar Burton, Malik Forte, Randy Couture and many others. The 2015 Geekies promises to be more of the same including viewer- and participant-suggested changes. The Geekies asked for your suggestions and you delivered with requests for new submission categories. So, in the vein of the Geekies mission of#ByGeeksForGeeks #BGFG, The Geekies are proud to reveal the new categories which include:
- Web Series – Scripted
- Web series - Unscripted/Reality
- Music Videos
Along with the previous categories:
- Indie Video Games
- Short Films
- Podcasts
- Comics & Graphic Novels
- Art & Craft
- Fashion
- Trailers & Videos
- Tabletop Games
- Websites & Blogs
Video: Stan Lee Encourages Indie Creators to Enter the 2015 Geekie Awards
In addition to the new categories, there are a few other changes for The 2015 Geekie Awards, by fan request. The judges will choose the nominees, as always, but the winners will be chosen by votes from you… the public! Voting will provide more opportunity to promote all of this year's nominated works.
The Geekies have also added a new team member, Cullen Sweet, the new Director of Marketing. Cullen had this to sayabout the Geekies and joining the team, "Discovery is easily the number one problem indie creator's face. Projects live or die based on how visible they are within their marketplace. The greatest thing about a show like The Geekie Awards is that it serves as a platform for indie creators to obtain that visibility. We put a spotlight on indie titles that provide fantastic experiences, but may have been passed over by the mainstream public. Every creator deserves a moment to shine and we intend to give them that opportunity. As a fan of all things geek related, I am absolutely ecstatic to be a part of The Geekie Awards team and witness these amazing creations firsthand."
Kristen Nedopak, the Founder and Director of The Geekies had this to say about the newest member of #TeamGeekie, "The team is very excited to have Cullen on board this year. Having worked in marketing for numerous comic conventions and other geek related entities, he brings a lot of industry expertise to the table in terms of marketing to fans and building relationships with partner companies, along with insight into creating a community-driven show. Cullen is helping us push our mission of "by geeks for geeks" in year three and he's just been a pleasure to work with thus far."
It seems that The Geekie Awards are getting better every year with the expanding team, help of the participants and feedback of the fans. This year they continue their commitment to the indie community and their mission of "BY GEEKS FOR GEEKS" by asking that you submit your ideas and feedback along the way at ideas@thegeekieawards.com. Make sure you tweet, Facebook and IG suggestions using #BGFG #ByGeeksForGeeks. Submissions are open for your content until May 31st. You can enter your work here: http://www.thegeekieawards.com
About The Geekie Awards:
The Geekie Awards®, an award show by geeks for geeks™, is aimed at placing the geek culture in the spotlight as a collection of valid, respected, award-winning genres for storytelling and creation. In an industry filled with award shows for established celebrities, we honor talented, independent creators and give them the opportunity to receive recognition in front of a worldwide audience and leaders in their respective industries. The Geekie Awards inspire creativity and hope and they foster cross-market innovation among entertainment, gaming, comics, art, and fashion. Their mission is to create a fun, action-packed, unforgettable broadcast event tailored to all of the things we geeks love—delivered via the latest digital technologies.
The Geekie Awards would like to acknowledge our 2015 Sponsors: PepsiCo Interactive, J!NX, POW! Entertainment and WebMovement; as well as our brand partners: Encore Streaming and Next Level Agency. Special thanks to our community partners: Soulcake, International Academy of Web Television, LA Cosplay Con, Gam3rCon, ITVFest, San Diego Comic Fest, Fashionably Nerdy, Mark Soderwall / Indie Game U, Chris Avellone / Obsidian and Chris Gore for helping take indie creators to the next level!
Contact
The Geekie Awards
Wynter Davis
(612) 518-6491
Thegeekieawards.com
thewynterdavis@gmail.com

Contact
Multimedia
Watch here: https://www.youtube.com/watch?v=-0VRrd_SE4A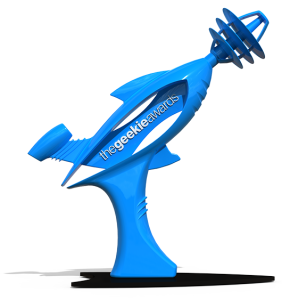 Fun Fact: The trophy is held on it's base by super powerful magnets, allowing you to remove the statue and play with it. You heard us, it's a trophy / toy!