Oksana Angel's Debut Single "Unconditional Love" in Rotation on 105.9 FM Radio - Side by Side with Nick Jonas' "Chains," Rihanna's "American Oxygen" and Maroon 5 "Sugar"
105.9 FM RADIO http://krycfm.com Rotates Klubjumpers' Remix of Oksana Angel's Song "Unconditional Love" in Yuba City/Sacramento, CA.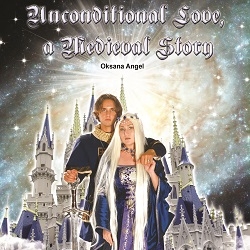 Los Angeles, CA, April 27, 2015 --(
PR.com
)-- 105.9 FM (Yuba City/Sacramento, CA) spins Klubjumpers- engineered remix of Oksana Angel's "Unconditional Love" to project her vision of the magical world of light, love, kindness and peace reaching the audiences via the dance radio and clubs. The upbeat digital track is filled with electrifying energy, hypnotizing melodies and enigma. "Unconditional Love" remix meshes well with Top 40 hits like Nick Jonas' "Chains," Maroon 5 "Sugar," Ellie Goulding's "Love Me Like You Do", Selena Gomez's "The Heart Wants What It Wants." Available now for purchase and streaming worldwide from all digital partners, including iTunes, Amazon, Spotify, CD Baby and eMusic.
https://itunes.apple.com/us/album/unconditional-love-radio-edit/id976169237
Klubjumpers crafted "Unconditional Love" remix the same way they did their major label remixes like the Billboard's Hot 100 number one in November, 2009 "Whatcha Say" by Jason Derulo (Warner Bros.), "No Me Digas Que No" by Enrique Iglesias (Universal Music Group), "Wepa" by Gloria Estafan (Crescent Moon Records).
Dan Mathews, Billboard-charting DJ/producer and Program Director at 105.9 FM http://krycfm.com comes from a club DJ and radio DJ background with his first major gig with a radio mix show on POWER 102 KPRR. From there he went on to other radio stations and landed a gig in Alamo City and San Antonio, TX. Dan also had a radio mix show on 1067 JAMZ on Sunday Nights called the Freestyle Files. Dan has since been given a whole fleet of syndicated radio shows he now hosts in the US and internationally.
Oksana Angel's "Unconditional Love" was originally produced by Anthony Meyer (Producer/Songwriter for The Pussy Cat Dolls' Kaya Jones, Mitchel Musso, Jeff Timmons of 98 Degrees). Meyer has two simultaneous Billboard Top 20 Club Chart hits with Fat Joe/Breanna Rubio ("Fly Alone") and Jeff Timmons ("That Girl").
"The Kingdom of Angels™ has a very strong and appealing message that resonates with the hearts and minds of people of all ages. The music is soothing, enchanting and magical; the lyrics and melody are inspiring. We expect to make a significant impact among the spiritually-oriented audiences with Oksana's uplifting single "Unconditional Love" that carries inspirational messages of inner peace, joy and kindness." – Anthony Meyer, Producer
Multi-platinum record producers Chris Johnson ("My Immortal" by Evanescence) and Richard Bosworth ("Time to Say Good-Bye" by Sarah Brightman) compare Oksana's warm vocals to the angelic-sounding voice of Sarah Brightman ("Symphony", "Dreamcatcher"), the hypnotic sound of Enigma ("Sadness", "Principles of Lust") and the sensual notes of Sade ("Soldier of Love", "Lovers Rock").
"Unconditional Love" is a mesmerizing song about pure, selfless and unconditional love that transforms hearts from within. This is the essence of the Universe and everything it is made of.
– Oksana Angel
The "Kingdom Of Angels" is a fantasy world of Light, Peace, Compassion, Love and Magic expressed in the spiritual music about angels and their unconditional love for humanity. Oksana delivers angelic messages of Love in every song, every note and every step of the journey she's on.
To get a digital copy of this magnificent fruit of multi-talented collaboration, go to https://itunes.apple.com/us/artist/oksana-angel/id319110995 or www.OksanaAngel.com
The forthcoming debut album "Unconditional Love" will be released in English and Russian on the Kingdom of Angels Records. For exclusive promo materials, product announcements and pre-sales, sign up on Oksana's FanSpace page at http://www.oksanaangel.com/fanspace.html
Contact
Kingdom of Angels
Anthony Meyer
(818) 770-0220
http://www.OksanaAngel.com

Contact