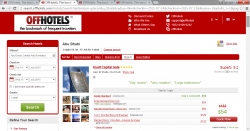 Hong Kong, Hong Kong S.A.R., April 28, 2015 --(
PR.com
)-- Hotel room prices vary widely from exorbitant rack rates to last minute bargain discounts. While this is a clever way for the hotel industry to balance occupancy rates and revenue, it is disheartening for travelers to discover that the fellow guest in the exact same room next door may be paying a fraction of the rate you paid.
That's where
OFFHOTELS.COM
comes in.
"It's a huge challenge to make the right decision on which website to book your hotel," says OffHotels founder Stefan Zwanzger, a German citizen who has traveled to over 130 countries. "There are too many options, and rates differ greatly."
"For flights, it's different. Prices go up and down based on when you booked it. That feels fair. But when it comes to hotel rooms, you can pay as much as three times more for the same room, booked on the same day, for the same night."
OFFHOTELS.COM's hotel price comparison helps travelers find huge discounts on hotel rooms around the globe.
Founded by Zwanzger, who has visited most of the world's theme parks and runs the CNN-featured Theme Park Guy website, OFFHOTELS.COM is making life easier for the seasoned traveler by pooling all the lowest prices in hotel rooms onto one simple-to-navigate website.
"On OffHotels, you can book a Ritz-Carlton for as low as US$90, a Westin for US$89, a Sofitel for US$75, a Kempinski for US$73, a Marriott for US$69, an InterContinental for US$66, a Hyatt for US$58, a Novotel for US$45 and a Hilton Resort for US$33," says Zwanzger.
"Think about it: a Hilton Resort in Egypt for US$33, including breakfast, lunch and dinner buffets, unlimited drinks, a private beach and an amazing bed, made everyday with fresh linen. If you run out of money and need time to reflect, you now know where to go. It sounds like a joke, but it's not."
"We also list current discount codes for major hotel booking sites at the top of the page. We update them every single day to ensure that they are not expired. There are many discount coupon sites out there, but I don't know of any that do this so thoroughly. You'll love OffHotels, and it will take you just a few minutes to get used to it!"
With the ability to secure the lowest rates for any required accommodation anytime, anywhere, OffHotels saves you from unnecessarily overspending on walk-in rates.
"When you just show up without a booking, and ask the receptionist for the room rate, they give you the walk-in rate, also called the 'rack rate.' Rack as in reckless. You're then offered a rate so outrageous, it's almost offensive. So, what you do is, you ask the front desk for internet access, even if it means paying $30 for an access code, go to OffHotels, use our price comparison, and book the same room for that night at half the price or even less. Then, you go to the check-in with your online booking and look deep into the receptionist's eyes. This is fun!"
"If I hadn't used
hotel price comparisons
myself, I think I wouldn't have made it to over 100 countries."
Ron Vining, CEO of Singapore-based BrandInflux, says: "Ever since I came across OffHotels, I have saved so much on hotel bookings that I can now book an occasional free flight, just from the savings! It really makes such a spectacular difference on cost of my personal and business travel."
About the Founder:
Stefan Zwanzger is a German citizen who has lived abroad for the past 10 years and travels the globe as his profession. He has traveled to over 130 countries and stayed in over 1,000 hotels. When he is not on the road, he divides his time between Singapore and Abu Dhabi.