Paul Miller Auto Group Chooses MotoFuze as CEM Partner
Leading Ford-Mazda dealership selects the automotive division of FuzeCast as its preferred Customer Experience Management Platform.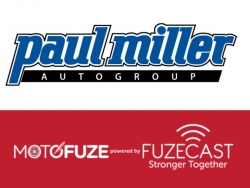 Kansas City, MO, April 27, 2015 --(
PR.com
)-- MotoFuze, powered by FuzeCast, announces its newest partnership in the automotive industry with Paul Miller Auto Group of Lexington, Ky. Paul Miller Ford-Mazda signed as a client on-site at the 18th Digital Dealer Conference and Exposition held in Tampa, Fla., April 21-23, 2015.
"MotoFuze allows us to re-engage our employees, improve our internal communication and share our community involvement and dealership events with our loyal Facebook fans," said J.P. Miller, President and General Manager of the Paul Miller Auto Group. "Any dealership that wants to take charge of their brand and maximize their social exposure needs to check out FuzeCast," said Miller.
Paul Miller Ford-Mazda employs over 300 staff and has been an important part of the Lexington community since 1953. "Building relationships with dealers that understand and embrace new technology and understand the power it has to build their brand is what #StrongerTogether is all about," said MotoFuze Chief Executive Officer, Mike Dullea.
MotoFuze chose the 18th Digital Dealer Conference to launch the newest addition to its Customer Experience Management platform, the FuzeCast Mobile App. Dealers were able to view the app with personalized demonstrations from the booth where MotoFuze was an exhibitor at the show. Consultations were available on how to ignite their brand by leveraging employee advocates, streamlining dealership communication and delivering exceptional customer experiences using the power of FuzeCast.
About Paul Miller Auto Group:
Officially named Paul Miller Ford Inc., the group includes two new-car showrooms - Ford and Mazda - and a host of other offerings including used cars, six Fortune Collision Centres, the Paul Miller Truck Service Center, Quick Lane Tire and Auto Centers, Beasley Digital Printing for custom-designed vehicle graphics, an after-market accessories business called Autosports and Paul Miller Upfitters, a division that outfits police and fire vehicles all over the state. Paul Miller Auto Group has been serving the people of Kentucky since 1953, thriving under the same ownership "for 60 years" and three generations. Founded by Paul E. Miller, John Paul and J.P. Miller, Jr. have continued the legacy and success by growing the brand and business of Paul Miller Auto Group.
About MotoFuze
:
MotoFuze LLC is a division of FuzeCast that is revolutionizing how automotive dealers ignite, engage and influence more consumers more profitably with the industry's first Customer Experience Management (CEM) platform. Its all-in-one CEM solution drives content marketing, reputation management, social selling and employee engagement with supporting Social CRM, digital and search marketing tools, website enhancement products and sales force automation. This cloud-based platform offers complete mobile integration and is accessible from any smartphone with Internet connection.. A strategic consulting team specializing in brand impact strategy and ambassador education for large dealer groups and individual dealerships implements the MotoFuze Customer Experience Management system. FuzeCast CEM and your Dealership: Stronger Together.
Contact
Motofuze
Gina Reuscher
(800) 221-6920
motofuze.com

Contact