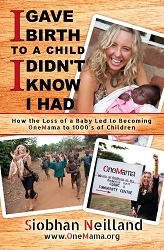 Los Angeles, CA, May 01, 2015 --(
PR.com
)-- Today solidifies the official launch of the book, "
I Gave Birth to a Child I Didn't Know I Had: How the Loss of a Baby Led to Becoming OneMama to 1000's of Children
" available on Amazon in paperback and Kindle. This best-selling book reveals the back story of when Siobhan Neilland, Fortune 500 Consultant and Philanthropist landed in the impoverished villages of Uganda after a traumatic miscarriage where she never realized that seeing infants and children raised in poverty would bring back the loss of her own childhood.
Born into a cult, squatting on other people's land, forced stealing and gifting was better than starvation. Forced to shoot guns and drive getaway cars by the age of four, Siobhan realized she never wanted for another child to lose their childhood and their sense of joy by having to overcome poverty in an unhealthy environment.
Therefore, the manuscript published by The RED Carpet Connection Publishing, Publicity, & Talent Agency tells the story the founding of the OneMama organization which provides birthing and health clinics, agricultural sustainability, and economic trade skills to the mamas of Uganda living in impoverished communities on less than a dollar a day. Determined to give mamas and babies a thriving environment in which to live a joyful, happy childhood, she created a three-tiered platform to fund her international charitable organization.
"It is because of OneMama that no woman is left behind and that every child can now have the opportunity to be born into a safe, clean environment that provides opportunities for success as they grow up to be mothers and fathers one day," shared Christine Bronstein, CEO, 'A Band of Women' and 'Nothing But the Truth Publishing.'
The long awaited, riveting backstory to OneMama is finally revealed in this best-selling book, "I Gave Birth to a Child I Didn't Know I Had: How the Loss of a Baby Led to Becoming OneMama to 1000's of Children" available on Amazon in paperback and on Kindle. This short read, chock full of color images, shows the real life scenes of mamas, babies, and children thriving in Uganda with the support of the OneMama organization.
Men and women alike will be overjoyed to share in the environment that Siobhan created for these families both in reading this book as well as supporting the OneMama organization with their contribution of purchasing this item on Amazon. Partial proceeds of the book directly fund the items needed at the OneMama communities including vaccinations, immunizations, birthing kits, and more for the health clinics.
About Siobhan Nielland:
Siobhan Neilland, who rarely shares her tumultuous past, gives you a small glimpse into the underworld of childhood poverty. Despite this glimmer of challenge, the book reflects more on the joy in her life, the OneMama organization. Additionally, Siobhan is a Fortune 500 Consultant working with international global moguls such as Amazon, Google, Oracle, and Visa. Additionally, she is an international keynote speaker and presenter sharing her Fortune 500 philosophies as well as her corporate motivational platform "Fighting for Your Joy" which focuses on overcoming adversity and challenges to find joy despite what is going outside or inside of your business environment or personal life. In addition, she enjoys political advocacy as a UN Women's delegate for the rights of women and children internationally.
To learn more about Siobhan Neilland or to book her for speaking gigs, visit www.OneMama.org,. To invest in your copy of the book "I Gave Birth to a Child I Didn't Know I Had" visit www.Amazon.com.
About The RED Carpet Connection Publishing, Publicity, & Talent Agency:
The RED Carpet Connection Publishing, Publicity, & Talent Agency is a full publishing house, which offers traditional publishing, collaborative publishing, and imprint publishing services. Additionally, TheREDCarpetConnection.com provides public relations and publicity services including press release distribution, designing media kits including brochures, acquisition of radio and television interviews, social media services, and sponsorship acquisition.
Contact info(at)TheREDCarpetConnection(dot)com, http://www.TheREDCarpetConnection.com or call 419-722-6931 for more information or to book one of our Authors or Talents for a presentation or interview.