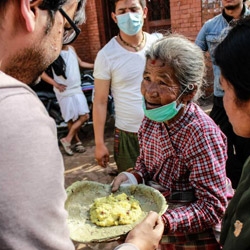 Kathmandu, Nepal, May 04, 2015 --(
PR.com
)-- Food for life Nepal has been distributing hot vegan meals daily to the victims of the disastrous earthquake that shook Nepal on April 25th. The small non-profit was a first responder and is still one of the few organizations serving hot meals in the city and surrounding areas.
The volunteers serve Khichadi, a bean, rice and vegetable stew that is very popular in the region and highly nutritious. Since starting on the 26th, over 65,000 meals have been served on the streets of Kathmandu and Bhaktapur, as well as hospitals, shelters and parks.
"In Bhaktapur, the whole town is practically living on the streets," reported local volunteer, Dr Sanjiv Gupta. "None of the houses are safe to live in because aftershocks are still going on. People are living in tents and whatever shelter they can find and they have no cooking utensils. Food for Life is their only source of healthy cooked meals."
One man told them, "We got Khichadi (bean, rice vegetable stew) being distributed by other organizations, but the taste of the Khichadi was like rice and daal mixed together. The Khichadi being served by ISKCON Food for Life Nepal is very delicious, nutritious and energetic."
Meanwhile, the UN'S humanitarian chief, Valerie Amos has said she is "extremely concerned" that Nepal's customs authorities are slowing the delivery of quake aid, and has urged the prime minister to fix the problem.
The non-profit is run by ISKCON Nepal and is an affiliate of Food for Life Global's network of vegan food relief projects operating in over 60 countries, with volunteers serving up to 2 million meals daily.
To learn more about Food for Life Global, visit www.ffl.org