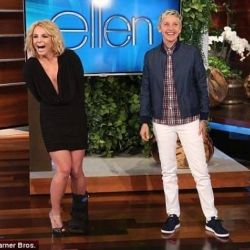 West Hollywood, CA, May 07, 2015 --(
PR.com
)-- SEN Couture releases another announcement on "Celebrity's Wearing SEN Couture." On May 05, 2015, Britney Spears wore SEN Couture, making a special appearance on NBC's Ellen DEGeneres show.
About SEN Couture
SEN Couture is a woman apparel line, founded by designer Trang Phung in January 2010, when she set out to meet the discriminating needs of urban ladies and trend-setters, who crave Couture quality at attainable cost. It celebrates women's femininity with class, edge and sex appeal. All creations from SEN Couture are handmade in California, USA, and they are never mass-produced. In a very short period of time, SEN Couture has quickly risen and commands attentions in the fashion industry as high profile celebrities select SEN Couture to wear on special events, red carpets and films productions. They have also been featured in many fashion magazines all over the world.
SEN Couture has often been seen on many celebrities such as Jennifer Lopez, Britney Spears, Nicole Scherzinger, Tony Braxton, Iggy Azalea, Michelle Rodriguez, Emmy Rossum, Rebecca Romijn, Brandi Norwood, Brandi Glanville, Yolanda Foster, Lisa Rinna, Cassey, Dolly Parton, Mel B, Christina Milian, Colby Cailat, Carmen Electra, Naya Rivera, Letoya Lucket…just to name a few.
To see the full range of products and all the press/celebrities, please visit www.sencouture.com
For more information contact:
Name: Trang Phung
President/Designer
Email: trang@sencouture.com
Telephone: (888)683-0888