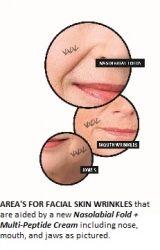 Haddonfield, NJ, May 20, 2015 --(
PR.com
)-- A media blitz reporting on a new breakthrough for helping reduce deep wrinkles and skin folds from facial areas at sides of nose to mouth are being undertaken by Reviva Labs, Haddonfield, N.J.
It is the Reviva Labs Nasolabial Fold + Multi-Peptide Cream.
Awareness of the facial-improvement cream is being communicated in multiple ways. They include:
-First notice announcements in national-distributed Health Food publications.
-Volunteer reviews by independent skin care Bloggers. They include: myfabfitforties.com; beautyinfozone.com; daisyreviews.blogspot.com; my-magnificent-obsession.com; and mystylespot.blogspot.com.
-Information supplied to TV stations nationally.
-Internet/ social media outlets.
-Printing and distribution of free brochures explaining benefits to be gained, and procedures for applying.
-News material to print media, including both consumer and skin care editors.
-Reviva Labs web site (www.RevivaLabs.com).
For additional information contact Reviva Labs, Inc., 705 Hopkins Rd., Haddonfield N.J. 08033; Tel.: 800-257-7774; Fax: 856-429-0767, or visit www.RevivaLabs.com.
Note to Editor: A sample can be mailed to the Editor directly from Reviva Labs. Please let us know if there is a special name and address to whom an additional sample should be sent. Contact: Elena Cruz, American News Services, at 29 Bala Ave., Ste. 114, Bala Cynwyd, PA 19004; Tel.: 484-562-0060; E-Mail: adcomtimes@aol.com.