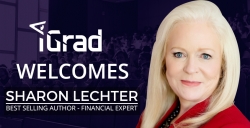 San Diego, CA, May 28, 2015 --(
PR.com
)-- Sharon Lechter, the best-selling author and founder of Pay Your Family First, has joined iGrad's panel of financial literacy experts.
"Joining iGrad's team of financial literacy experts is a natural fit," says Lechter, co-author of the "Rich Dad" brand of financial guidance books.
The international bestselling author teamed up with iGrad to author the
financial literacy curriculum "Your Financial Mastery"
, winner of the 2015 Excellence in Financial Literacy Education Award (EIFLE) from the Institute for Financial Literacy.
Lechter's addition strengthens iGrad's unique position as the innovative leader of financial literacy in higher education.
"In today's economy, financial literacy is not just about the student. It is about families and the future," says iGrad Vice President Kris Alban. "Sharon has an uncanny ability to communicate effectively to students and families – she provides an informed perspective on financial literacy as it relates to real life situations. She is an A-plus resource for students and families who want to be more aware of their financial responsibilities."
Your Financial Mastery employs the cutting-edge "flipped classroom" format, which empowers student learning by leveraging online video lectures, practical examples, and instructor-led activities and discussions. This approach results in a level of interaction that's crucial for the behavioral changes needed to master the core competencies of financial literacy.
According to Lechter, a member of the first President's Advisory Council on Financial Literacy, Your Financial Mastery, empowers students to become masters of their money, rather than slaves to it.
Lechter, who is among iGrad's panel of financial literacy experts writing about finance, is an author, international speaker, CPA, CGMA and philanthropist. In addition to her international blockbuster "Rich Dad Poor Dad" series of 14 books, she has written "Think and Grow Rich for Women."
"It's a pleasure having Sharon join our team," says Alban, "Our main goal when we founded iGrad was to help students make educated decisions about their finances. Now we have some of the brightest thinkers in financial literacy aligning with us. It speaks volumes about our process and mission. I can't thank them enough for their roles in elevating our ability to help students and families."
Lechter joins an all-star list of financial literacy experts that includes:
Terry Savage: A nationally recognized expert on personal finance, the economy and the markets, Terry writes a syndicated personal finance column, and blogs weekly on the Huffington Post. She is the author of four best-selling books on personal finance, including "The Savage Truth on Money," which was named one of the Top 10 money books of the year by Amazon.com.
Reyna Gobel: Author of "Cliffs Notes Graduation Debt: How to Manage Student Loans and Live Your Life" and "How Smart Students Pay for School," often is a guest commentator on financial news programs. She has written about financing college for Forbes, US News and World Report and many other leading publications. She writes "Ask Reyna," an iGrad column that answers questions from students and educators.
Sanjeev Agrawal: Founder and CEO of Collegefeed, which helps students and recent graduates connect online with employers. Sanjeev formerly was CEO of Aloqa, a startup that pushed content to mobile users based on location, which was sold to Motorola. He has led marketing teams at Google and Tellme Networks and founded a company that helps align businesses with technology strategies.
Heather Jarvis: An attorney who advocates for reducing financial barriers to practicing public interest law, Heather has contributed to student debt relief policy for congressional committees.
Ornella Grosz: A licensed investment advisor and certified financial educator, Ornella is the author of "Moneylicious: A Financial Clue for Generation Y," an easy-to-understand guide about money and personal finance for young people. She also is a member of the National Financial Educators Council Advisory Board and a retirement planner with the Teachers Retirement System of Georgia.
Tarra Jackson: Known as Madam Money, Tarra is a financial coach and motivational speaker who wrote "Financial Fornication," a guide to saving money and building credit. Tarra's #CashChat is ranked among the Top 5 financial chats on Twitter.
Rebecca Rose: As assistant director of financial literacy and education programs at Syracuse University, Rebecca leads the school's highly acclaimed "I Otto Know This!" financial literacy program.
About iGrad:
iGrad partners with more than 600 schools nationwide to provide a financial literacy platform that connects more than 1.2 million students, as well as alumni and staff. iGrad is the only organization to offer a customizable, adaptive learning financial education platform with optional video-based student loan entrance and exit counseling.
iGrad's recent accolades include:
• 2013 Outstanding Consumer Information Award, Association for Financial Counseling and Planning Education (AFCPE)
• Best Product of 2012, 2013 & 2014, University Business magazine
• 2013 & 2015 Education Program of the Year, The Institute for Financial Literacy