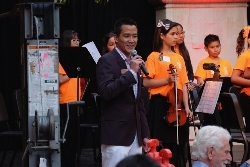 San Diego, CA, June 08, 2015 --(
PR.com
)-- Christopher Weil & Company, Inc. (CWC), a financial services firm, today announced that Robert Gaan, a CWC Managing Director, has been presented with the Conductor's Award by the San Diego Youth Symphony and Conservatory (SDYS). This is only the fourth time in 20 years that the SDYS has chosen to bestow the Conductor Award upon a worthy recipient.
"The San Diego Youth Symphony Conductor's award is presented by the Music Director to profoundly impactful and inspirational individuals such as Rob Gaan, whose vision, leadership and insight has made a meaningful and positive difference in the lives of thousands of students through Music Education," said Jeff Edmons, Music Director, San Diego Youth Symphony and Conservatory. "Rob embodies all of the outstanding qualities of character, leadership and kindness that define the SDYS Conductor's Award. His proactive devotion to providing holistic access to quality Music Education serves as a benchmark for our institution and as an inspirational model for others to emulate."
SDYS recruited Rob to the Board ten years ago as the Youth Symphony began bringing on new Board members who weren't parents of musicians. He was among the first group of new Directors who brought expanded skill sets and experiences to the Board. This group began developing a new, long-term vision for the organization. He served as Treasurer for five years before being elected Chair. During this time, he has been instrumental in developing SDYS' strategy which is now recognized by national arts and education experts as a model for other communities in the region and across the U.S. to create systemic change.
"We are proud to recognize Rob Gaan for his ten years of extraordinary leadership and dedication as Treasurer, Chairman and community spokesperson resulting in SDYS' expanded vision to make high quality music education accessible and affordable for all children in San Diego and beyond," added Dalouge Smith, President and CEO, San Diego Youth Symphony and Conservatory.
About Christopher Weil & Company
Christopher Weil & Company, Inc. ("CWC") is a financial services firm that services clients nationwide. With over forty years in the financial world, CWC, together with its affiliates, work from every angle as investors, managers and advisors (IMA's) to bring their clients peace of mind. The firm is both a securities broker-dealer and a registered investment advisor, enabling it to provide a comprehensive and integrated mix of client services. CWC is innovative in responding to client needs and dedicated to nimble, intelligent customer service with a personal, family touch. For more information, please visit www.cweil.com.