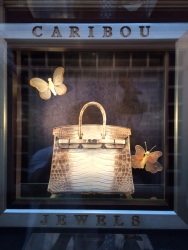 Aspen, CO, June 18, 2015 --(
PR.com
)-- Privé Porter, the fastest growing online retailer in luxury handbags will host their first pop-up shop in Caribou Jewelers, June 19th – 21st noon till 11pm, during the Food & Wine Classic. As the kick-off to Privé Porter's global retail brick and mortar expansion, the pop-up-shop will feature over $2MM in hard-to-find, collector-ready Hermes Birkins, other handbags and accessories. Prices will range from $1,200 - $175,000. A store-fresh 25cm Blanc Himalayan Birkin estimated to sell for $125,000 is a prime example.
Cities on their retail target list through 2016 include a soon-to-be-announced location in Aspen, Beverly Hills, Las Vegas, and UAE. Privé Porter reports 40% of sales volume from the Middle East. They currently operate from their by-appointment-only boutique in Boca Raton, FL.
Established in 2008, Privé Porter was a pioneer on Instagram to get ahead of the entire Hermes dealer marketplace -- Christie's, Heritage, Sotheby's -- which seemed to be committed to auction mode. Privé Porter lists a bag, without prices, on Instagram, and within hours, one of the 56,000+ followers, from over 45 countries, contacts them and buys the bag. This "immediacy", management explains, gives both the buyer and those looking to sell immediate satisfaction the auction houses could never provide. "Someone could consign their bag to an auction, and three months later, possibly not get what they expected. We pay cash up front for our inventory, in all cases much more than an auction house would. Plus, we have no seller commission," says founder Michelle Berk.
"I buy for myself from Privé Porter," says Hope Dworaczyk, owner of bombette.com fashion and lifestyle blog. The former Celebrity Apprentice and TV Host explained, "Within a few days Privé Porter can find me a Bubblegum pink or Mimosa yellow alligator Birkin. These are bags I'd have to search the Hermes boutiques months for, and may never find without doing a special order. In the store you are only offered what they want to offer, but Privé Porter can find any color."
For additional information or images please contact:
Ari Goldstein
917-685-7846
ari.goldsteincom@gmail.com