Kenneth Gayten, Author of "Give Me Strength," to Discuss Strategies for Resilience and Excellence
Expert helps individuals work through chaos and create simple systems for resolution.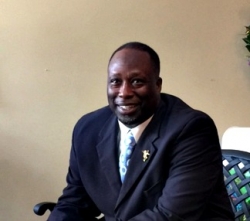 New York, NY, June 23, 2015 --(
PR.com
)-- Kenneth B. Gayten, "the man with a tremendous ambition to help others succeed," has formally launched his freshman book, "Give Me Strength" (KennethGayten.com) and book tour, his publicist announced today. Gayten is scheduled to speak at Grace Temple Deliverance Center, 1913 Gregg Street, Columbia, South Carolina on Sat. June 27, 2015, from 1 p.m. to 3 p.m.
The South Carolina professional and personal life coach says that he helps individuals become the best version of themselves by utilizing simple systems that lead to resolution.
The charismatic Gayten says that he "helps people free themselves to be who they want to be, not who they were set up to be."
The author added that inspiration for writing his book stemmed from life-altering experiences he has had with leaders and governments from all across the globe.
"Each of us has been given a vehicle, or talent," explained Gayten. "Some are raw; others are developed. This vehicle will require oil changes, refueling, detailing, attention the instruments which all ensure it is operating to the best of its ability."
His passion for empowering as many individuals and organizations across the globe as possible is undeterred.
"Kenneth speaks to corporate, educational and private audiences around the world. He brings a wealth of knowledge from his extensive university, military, organizational development and spiritual experience," stated Fran Briggs, publicist to Kenneth Gayten, and Director of eMediaCampaigns!. "'Give Me Strength' has received stellar reviews. It's a great option for those looking for guidance in finding their own brilliance."
Kenneth B. Gayten has earned two Master's degrees. One in Business Administration, and another in Human Resources from Webster's University. He dedicates his time to coaching, mentoring, speaking, and writing.
"Give Me Strength" is available in paperback and digital formats at Amazon.com. For more information, including author's speaking topics, visit http://www.KennethGayten.com.
For bookings, media inquiries, and sponsorship opportunities, please email Mr. Gayten's publicist, Fran Briggs, FranBriggs@aol(dot)com, or call 206.279.0818.
"Give Me Strength" Product Details
File Size: 420 KB
Print Length: 96 pages
Simultaneous Device Usage: Unlimited
Publisher: KennethGayten.com; First edition (June 2, 2015)
Publication Date: June 2, 2015
Sold by: Amazon Digital Services, Inc.
Language: English
ASIN: B00YTB0R6S
Contact
eMediaCampaigns!
Fran Briggs
206.279.0818
http://www.franbriggs.com

Contact