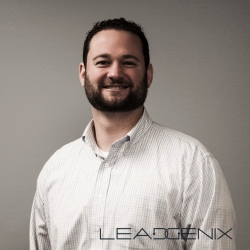 Provo, UT, June 24, 2015 --(
PR.com
)-- Leadgenix (http://www.leadgenix.com) announced today that Dan Posner will be the new President for the digital marketing agency. Dan is promoted to President from his current position as Vice President of Sales, a role he has filled for four years. Dan began at Leadgenix in a sales role when the company was less than a year old and became the sales manager in 2009. His promotion follows the departure of the previous company president who will continue on as a member of the advisory board.
Dan's expertise in digital marketing has helped Leadgenix grow from its beginning as a team of 4 employees providing lead generation and SEO to a dozen small clients. A few years in, Dan led the company in a review of clients to determine what accounts were happiest and most profitable. This analysis resulted in a shift to Leadgenix working as a fulfillment partner with advertising agencies and marketing firms. Following this new direction required faith and forced some difficult decisions. Today the agency serves clients in dozens of industries through more than thirty agency partnerships.
In speaking about the ongoing vision for Leadgenix, Posner stated, "In business, as in any relationship, the three most important components are great communication, honesty, and doing the right thing. These key factors remain vital to the company."
Jamie Bates, Director of Operations at Leadgenix endorses Dan's promotion to company lead, saying "Dan is a person of tremendous capacity and drive who routinely demonstrates skills and talents that blow me away. Two things specifically stand out to me: his immense capacity for developing and managing relationships and his calm, logical gift for solving problems."
Brett Peterson, Director of Web Development at the agency said, "I am impressed at Dan's ability to create long-term partners, rather than simply customers, from the relationships he builds. I am convinced it is because he genuinely knows his stuff, is personable, and is a trustworthy person."
Dan earned a BA in Communication from Brigham Young University. He worked on the East Coast with the University of Connecticut Hospital and Enterprise Rent-A-Car before relocating to Utah. He is gifted at hearing a need and prescribing a solution that fits the strategy of a business to create strong partnerships for many companies including Nordictrack, Safeco Insurance, Henry Schein, and Alphagraphics. In addition to leading the company, Dan finds time to play softball, follow the Yankees, and dabble in gourmet foods.
About Leadgenix
Leadgenix is an internet marketing agency located in Provo, Utah, that provides Search Engine Optimization (SEO), web design, Pay Per Click Ad Management, Reputation Management and Social Media Optimization solutions. Since its launch in 2008, the company has helped over a thousand clients, agencies, and business partners throughout North America, Europe, Australia, South America, and the Middle East. The company is ranked in the Top 100 for Best SEO, SMO, and PPC by Market Watch, a Top 10 Agency by FindBestSEO.com, is a recipient of the Top 25 under 5 award presented by Utah Valley Entrepreneurial Forum, a Finalist for the Chase Mission Main Street Small Business Competition, and a 2015 American Business Award Medalist for Agency of the Year.
Learn more about Leadgenix online at www.leadgenix.com, on Twitter @Leadgenix, and on Facebook. Contact:
Shawn Butler
Leadgenix, LLC

(801) 477-1083
Email: info(at)leadgenix(dot)com