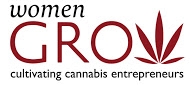 Atlanta, GA, June 29, 2015 --(
PR.com
)--
Women Grow
is a national network supporting female entrepreneurs in the cannabis industry. The Atlanta chapter, sponsored by Agents Alliance, is excited to feature two leading voices in marijuana reform at the chapter's upcoming Community Education Event. The July 7th event, the third in a regular monthly series, will feature networking opportunities and industry perspectives from two advocates in Atlanta marijuana reform. Women (and men) in the cannabis industry are invited to connect with colleagues, explore professional opportunities, and hear from guest speakers.
Charlo Greene, referred to as the "face of marijuana legalization," is an activist, media and culture expert and will discuss the current state of medical marijuana. Representative Allen Peake, born and raised in Georgia, will talk about his experience passing medical cannabis legislation in his home state. His efforts to provide families with options for treatment of children's seizure disorders culminated in the passage of Haleigh's Hope Act in April 2015.
"I am honored to have Ms. Greene and Rep. Peake - two distinguished and informed advocates of marijuana policy reform - speaking at our event in Atlanta," said Atlanta Chapter Chair Krystol Sanders. She adds, "As Georgia's medical cannabis industry evolves, it is important to engage leaders like Rep. Peake and Ms. Greene in the effort to ensure that women in the cannabis industry are empowered to lead and that families have the treatment options they need."
The Women Grow Atlanta Community Education Event will take place from 6:30 - 8:30 p.m. on Tuesday, July 7 at Front Page News (351 Moreland Ave., Atlanta). The event will offer opportunities for brief personal introductions, open networking, and an engaged speaking forum. Tickets are $35 in advance or $40 week-of. To purchase tickets or learn more about the event, visit the
Women Grow Atlanta Chapter event page
. After July 7, signature networking events will be held on the first Thursday of each month. The next event will take place on August 6.
About Women Grow
Women Grow is a national network educating, empowering and connecting women through monthly networking events and national conferences that shine a spotlight on aspiring and established women leaders in the cannabis industry. The organization welcomes women entrepreneurs at all stages of business development from within the many sectors of the industry including cultivation, sales, advocacy, investment and ancillary businesses such as legal advocacy and representation, medicine, and marketing. Women Grow has chapters from coast to coast. Visit Women Grow, to learn more about the organization, locate or apply to start a chapter, and tap into the organization's knowledge base and speaker's bureau.