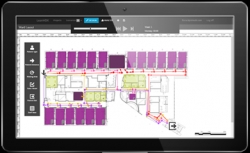 Boston, MA, July 01, 2015 --(
PR.com
)-- SIMUL8 Corporation, producers of world renowned process improvement simulation software today announced the launch of a new healthcare product; LeanHDX.
Designed with healthcare architects for healthcare architects, LeanHDX is set to disrupt the healthcare industry and transform how healthcare facilities are designed.
Visual and interactive, LeanHDX is rapid online software that lets you consider layout and process simultaneously so you can eliminate waste and maximize performance now and in the future.
Claire Cordeaux, SIMUL8 Lead for Healthcare, said "Building a new healthcare facility and not knowing how many patients you can handle or staff you require is a thing of the past. With LeanHDX you can experiment with layout and process design simultaneously to ensure success."
The idea was initially born from working collaboratively with the UK NHS when their Productive Ward team needed a process improvement teaching tool that could engage nurses and teach them how to optimize their work spaces based on the lean principles of removing waste.
The success of this initial tool, combined with delivering several hospital design projects that took a lean driven approach made it clear that process needs must drive layout requirements, and lean led design is the only way to do this.
SIMUL8 Corporation's Product team have been working with healthcare organizations and architects to create a product that adds value to healthcare facility design. Designed with healthcare for healthcare it's going to transform the way people think and communicate about facility design.
The addition of LeanHDX means SIMUL8 Corporation now provides a software tool for every level of a healthcare organization to improve planning, increase efficiency, and reduce waste.
SIMUL8 CTO Frances Sneddon says "For 20 years we've been working with healthcare organizations to improve processes. LeanHDX was born from the desire of healthcare architects to transform healthcare facility design through the power of lean and simulation, and we've delivered that!"
The product was first showcased at the Healthcare Design Conference in San Diego to an abundance of positive feedback, and since then the first generation of innovative users has been growing.
For more information and to try LeanHDX visit
www.LeanHDX.com
About SIMUL8 Corporation
SIMUL8 Corporation produces world renowned dynamic, innovative software that enhances the way people make and communicate decisions. With headquarters in Boston, MA, and offices in the UK, our customers are located world-wide. For over 20 years we've been creating healthcare simulation software and worked with customers including Johns Hopkins, Geisinger and the UK NHS. We make breakthrough products that transform the way people make decisions in healthcare.
To find out more about SIMUL8 Corporation visit
SIMUL8.com
.