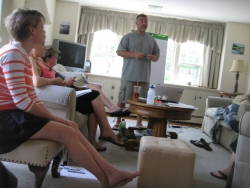 Billerica, MA, July 02, 2015 --(
PR.com
)-- Club Inhale/Exhale, LLC
Their private community-based studio helps busy people get into the best shape of their lives with our holistic approach; working from the inside out with client allows complete openness for results to occur.
Club Inhale / Exhale, LLC is holding their 4 Workshop Series starting on July 14th with How to Make Fitness & Nutrition a LifeStyle on July 14th at 8pm. Billerica, MA.
This workshop will educate you on how to budget your time, giving back to you, figuring out how many calories you need, & your macronutrient breakdown, tips on how to start slow into a workout program. Out of the box ideas on workouts & more. How to Make Fitness & Nutrition a LifeStyle was developed as a kick start to get you back into living a healthier life.
The Team at Club Inhale / Exhale has this to say: "What makes us Unique? Simple we care, we are not a box gym where you go in and leave unsure of your workout. Did you do a good job? We take all of the guess work out with our Fitness Classes that are instructed by Qualified, Certified Trainers. We take the time to ensure everyone is making progress, with our Customized Nutritional Designs (Meal Plans) these take the guess work out of what to eat every day, we tailor it to your needs and likes. We also have Nutritional or Check in Consults on a weekly basis with our clients. This helps to keep our clients accountable."
Club Inhale / Exhale, LLC has developed several workshops to educate you on living a healthier lifestyle:
· How to Make Fitness & Nutrition a LifeStyle
· The Big 3, Understanding Your Macronutrients
· B-LEEF™ 6 Steps to Awesomeness
· Game Changer, Change the Game in your Head
· Meal Timing for Daily Success
· Why Your Scale is Wrong
· How to get what you don't want!
· Understanding your body's natural Circadian Rhythms and Enteric Nervous System
· 6 Points of a Holistic Lifestyle Enhancement
· Sugar, Stress, & You
All of which are meant to progress you to the next workshop.
The first 4 listed will be the start to our workshop series, this 4 workshop series is meant to get you started on a successful and healthy future.
Michael from Club Inhale / Exhale goes on to say: "How to Make Fitness & Nutrition a LifeStyle will be your start to that new you, the you have been delaying for so long. "If you don't do for you, then you cannot do for others."
Registration for each workshop is required and space is limited.
To get started please register at http://clubinhaleexhale.com/fitness-nutrition-education-workshop-series/
For questions email Club Inhale / Exhale, LLC directly at: info@ClubInhaleExhale.com or call: 888 807 1102
"When You Change Your Mind You CAN Change Your Body"
You're Fitness Designers,
Kelly LaCasse & Michael LoColle
Managers; Co-Owners, Club Inhale / Exhale, LLC.
Their full menu of investments in Preventative Health for the community will provide a great opportunity to get the Billerica, Woburn, Winchester, Tewksbury, Andover, Chelmsford, Bedford and other surrounding communities to create its new Culture in Fitness, Health and Lifestyle changes.
Club Inhale / Exhale provide information and education for each client to leave nothing to chance when it comes to their members' goals. They are a one stop shop for creating your new lifestyle.