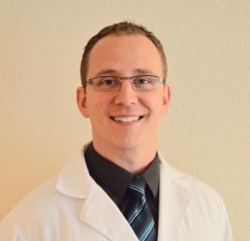 Columbus, OH, July 06, 2015 --(
PR.com
)-- OrthoNeuro announced today that Dr. Ryan Palmer will join their multi-specialty physician practice August 10th, 2015.
Dr. Palmer is a fellowship-trained orthopedic surgeon who specializes in adult total joint reconstruction. He will offer a full spectrum of hip and knee replacement surgery, from primary replacement to complex revision. For total hip arthroplasty, Dr. Palmer will perform both the anterior approach as well as the mini-posterior approach. He will also offer the full spectrum of ligament preserving total knee replacement techniques, including unicompartmental knee arthroplasty and bicruciate retaining total knee arthroplasty. Dr. Palmer plans to be one of two physicians in Ohio trained to perform CT-free robotic assisted partial knee replacements using the Blue Belt Navio™ Surgical System.
Dr. Palmer is a graduate of the Ohio University Heritage College of Osteopathic Medicine in Athens, Ohio. He completed his orthopedic surgery residency at Doctors Hospital and Grant Medical Center in Columbus, Ohio. Following residency, Dr. Palmer completed an orthopedic fellowship in Adult Reconstruction/Total Joint Arthroplasty from Baylor College of Medicine in Houston, Texas.
"I am very excited to be returning to central Ohio and joining OrthoNeuro. I am proud to be a part of a group that prides themselves on providing high quality and comprehensive musculoskeletal care," said Dr. Palmer. "I believe my sub-specialty training will allow me to provide excellent surgical and non-surgical care to the Columbus area. My family and I are looking forward to returning to our home state and becoming a part of the Columbus community."
Dr. Palmer is now accepting new patients. He will be treating patients at the OrthoNeuro Dublin, Downtown Columbus, and East Columbus locations starting in August. To schedule an appointment, please contact OrthoNeuro at 614-890-6555 or visit the OrthoNeuro website at
www.orthoneuro.com
.
OrthoNeuro
OrthoNeuro is a multidisciplinary center of board-certified physicians specializing in orthopedic surgery, neurology, spine surgery, and physical medicine and rehabilitation. With offices in Westerville, New Albany, Downtown, East Columbus, Dublin, and a new Pickerington location opening in November, OrthoNeuro is committed to providing patients throughout Greater Central Ohio with convenient access to an exceptional patient care experience.