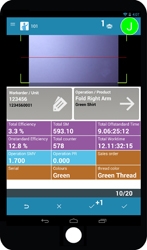 Alpharetta, GA, July 08, 2015 --(
PR.com
)-- Shopfloor Support LLC, an innovator in shop floor control (SFC) solutions, announces the commercial launch of its Shopfloor Eye™ wireless data collection and real-time production control solution for sewn products and other diverse product manufacturers. The breakthrough solution leverages standard tablets or smartphones running Android™ and Wi-Fi networking to collect production data and empower workers, supervisors and managers with real-time production visibility and control. By eliminating the requirements for proprietary data collection hardware, wired network infrastructure and complex software tools, the new solution promises to make real-time shop floor control more accessible and affordable to a wide range of discrete manufacturers.
"We are breaking down the barriers that have traditionally held manufacturers back from adopting real-time controls," explained Justin Hershoran, a Partner in Shopfloor Support. "By leveraging readily available technologies, any company can now benefit from the productivity, management and many other improvements available through this easy to install and use business app. To further simplify deployment, we developed Shopfloor Eye as a plug-in technology that can easily integrate or be embedded into established ERP, reporting, payroll and other production-related systems so that they can offer state of the industry SFC 'Powered by Shopfloor'."
To accelerate adoption of its core technology, the company is currently establishing distribution channels through select ERP and other manufacturing related technologies, equipment and services companies that bring the industry expertise, footprint, and other market reach to serve as OEM, Value-Added Reseller (VAR), or referral partners.
According to Shopfloor Support Partner Per Bringle, "We are excited to partner with successful distributors to bring innovations 'Powered by Shopfloor' to manufacturers across multiple industries and around the globe. While our system simplifies the deployment, use and maintenance of SFC, manufacturers can expect to gain the complete range of benefits from a real-time environment that drive a record-fast return on investment. Some of the most important capabilities include time and attendance, source to gross incentive payroll, worker instructions and performance feedback, order/work in process tracking, individual/team productivity and efficiency, off-standard time accounting, quality control, machine downtime, basic chat communications and more."
Shopfloor Support has successfully implemented its first customer implementations with several more installations scheduled in the coming weeks. The company is offering a convenient pay-per-use model that replaces traditional upfront perpetual license fees with a subscription plan that charges only for the number of users logged in to the system each day.
About Shopfloor Support LLC
Based in Alpharetta, Georgia (USA), Shopfloor Support was formed by a team of information technology innovators, manufacturing process experts and technology support professionals to create next-generation shop floor control solutions for discrete manufacturers. The result is Shopfloor Eye™, a simple to use and affordable real-time production and payroll data collection, worker feedback and plant management system that helps manufacturers increase productivity, improve shop floor control, and monitor other key performance indicators across the production floor. For more information, phone +1-323-787-7678 or visit the website at:
http://www.shopfloorsupport.com
.