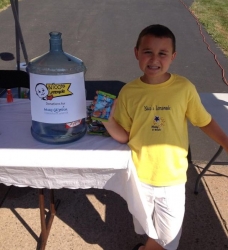 Plainville, CT, July 10, 2015 --(
PR.com
)-- On July 18th, the end of the driveway of 109 Northwest Drive in Plainville will again be a buzz with lemonade customers. Nico's Lemonade Stand is set to raise over $10,000 again this year for the Make-A-Wish Foundation. This is Nico's 6th year setting up his table and tents at the end of his parent's driveway. Nico's goal of $10,000 is the same as last year, however, he is thinking big. He would like to see other kids doing lemonade stands throughout the state to benefit Make-A-Wish.
Last year he set a goal of $10,000, enough to grant a wish for a child and their family. Again Nico exceeded his goal. In his short time as Plainville's youngest fundraiser he has raised enough money to send two children and their families to Disney World and this past year his donation went for a young boys wish for a pool. "I just want to be able to grant kid's wishes. They don't have to be Disney wishes," says the young philanthropist.
This year Stop and Shop Supermarkets has joined the Nico's Lemonade Stand team and will be setting up stands outside over 30 of there locations on July 18th.
Every year they are adding new things. In addition to the popcorn, cookies, snowcones and other carnival foods, this year they are adding Funnel Cakes. Last year they added homemade apple fritters. People were coming back for second and third helpings. "I asked my Papa if he could make them for us and he did," says Nico Fasold, the 10 year old founder of the Annual Lemonade Stand. In five years, Nico has raised over $30,000 for Make-A-Wish helping children with life threatening medical conditions.
The Lemonade Stand started in 2010 when Nico went to his father, Kyle Fasold, and asked to have a lemonade stand. Nico chose to donate all proceeds to Make-A-Wish, "because it helps kids dreams comes true."
The news of the 6th Annual Nico's Lemonade Stand is being spread through friends, family, press and Facebook. You can visit http://www.facebook.com/NicosAnnualLemonadeStand for more information, view photos from last year's event and even donate online at http://site.wish.org/site/TR?px=2930803&fr_id=1569&pg=personal.