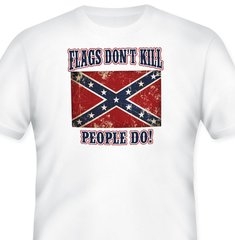 Chicago, IL, July 17, 2015 --(
PR.com
)-- A new website has popped up for those people who feel it is their right to display the Confederate flag, www.flagsdontkill.com. The site offers tee-shirts and bumper stickers that carry the messages "Flags Don't Kill, People Do" and "Heritage, Not Hate."
Bernie DiMeo, a spokesman for the company, said that while it may be true that in the hands of some the flag could be seen as derisive, it's also true that for a lot of people it's a matter of history, pride and a symbol of their ancestors' sacrifice. "Whether it's a book, movie or a banner that people oppose censorship is never the answer," DiMeo said.
DiMeo also thought it was somewhat strange how the flag got to be the 'bad guy' in all of this. "It's quite interesting how we react to things in this country," he observed. "A mentally deranged young man gets illegal firearms and massacres nine innocent people in a church and we decide that flag must go," he said.
www.flagsdontkill.com offers tee-shirts starting at $12.49 and bumper stickers for $7.50.