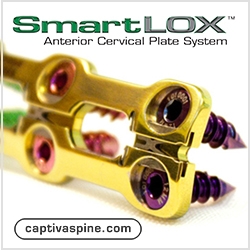 Jupiter, FL, July 21, 2015 --(
PR.com
)-- Captiva Spine, Inc., a medical device organization dedicated to developing and distributing intelligent and intuitive spine device solutions, announced today it has received 510(K) clearance from the U.S. Food and Drug Administration (FDA) to market an enhanced cervical plate system with a patented screw locking mechanism. Their SmartLOX Cervical Plate System incorporates a proprietary Nitinol self-locking mechanism, which provides visual, audible, and tactile confirmation of the cervical screw locking.
Dale Mitchell, President and Founder of Captiva Spine said, "We are especially pleased about this SmartLOX Cervical Plate System FDA clearance, as it incorporates our enhanced screw locking mechanism design. This enhancement allows screws to be inserted sequentially, in tandem or independently while ensuring a reliable and easy to use locking mechanism. While we all know timing is everything, we couldn't be more excited to also say that this improvement has recently been allowed a patent by the U.S. Patent and Trademark Office."
The SmartLOX Cervical Plate System has been engineered for ease of use, enhanced control, and predictable performance. In addition to its proprietary self-locking mechanism, SmartLOX Cervical Plate System features large graft/endplate windows for clear visualization, flush/smooth screw head profile, and options for self-tapping, self-drilling, fixed and variable angled screws. Discover more details about SmartLOX™ Cervical Plate System and Captiva Spine's other high quality and elegant products, such as the Pivotec® TLIF Cage Inserter and TowerLOX® MIS Pedicle Screw System, at their recently re-launched website
www.captivaspine.com
.
About Captiva Spine, Inc.
Captiva Spine is a privately owned medical device organization founded in 2007. Captiva Spine supports spine surgeons, tenured spine distributors, and healthcare facilities in providing patients progressive spinal care with an obsessive focus on quality; they strive to create and maintain sincere, honest, collaborative relationships. By valuing their relationships, above all else, fosters the mutual trust and openness needed for Captiva Spine to be a conduit of high quality, smart, elegant, and intuitive patient solutions. Captiva Spine operates as a family of industry professionals that take pride in delivering these solutions responsibly and ethically while never losing sight of what they refer to as the Human Factor: Finding the joy in their daily lives and serving the needs of their customers with sincere, professional enthusiasm.