Best Websites in 96 Industries Announced by Web Marketing Association
The winners of the 19th annual WebAward Competition for Web site development have been announced. They include the Best Websites in 96 different industries.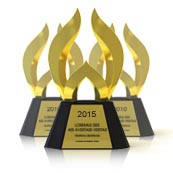 Boston, MA, September 02, 2015 --(
PR.com
)-- The Web Marketing Association is pleased to announce the winners of its 19th annual WebAward Competition for Web site development. More than 1,500 entries from 40 countries were adjudicated in 96 industry categories during this year's competition. Entries were judged on design, copy writing, innovation, content, interactivity, navigation, and use of technology.
A complete list of the winning sites can be found at the WebAward Web site at
www.webaward.org
.
"The bar continues to be raised in terms of website development trends in the online marketing community," said William Rice, President of the Web Marketing Association. "Website design is constantly evolving to better meet the needs of the online audiences. This year, the WebAwards competition received remarkable entries from around the world that show impressive creativity and functionality. We congratulate all of our winners for developing websites that deliver for their audiences."
Best of Show
The 2015 Best of Show WebAward is presented to
Trailer Park, Inc
. for their excellent work on
JurassicWorld.com
. The site was also recognized as Best Movie Website. This is the second Best of Show win for Trailer Park. The also won the 2008 Best of Show WebAward for Harry Potter and the Order of the Phoenix website.
Jurassic World is the latest sequel in the storied Jurassic Park series. JurassicWorld.com, brings the in-world theme park to glorious digital life. The site let fans explore the setting for the new film, while giving tantalizing glimpses of the park's new dinosaurs – and what might go wrong to eventually lead to the biggest thrill ride of all – Jurassic World, the movie.
Top Agency
Extractable
was named Top Agency at the 2015 WebAward Competition, taking home 31 WebAwards this year. This is the fourth time Extractable has won the Top Agency WebAward, following up top honors in 2014, 201 and 2009. The Top Agency Award is given to recognize the consistently outstanding development going on at interactive firms. An independently owned, full-service advertising agency based in San Francisco, Extractable blends user experience, creative and technology with insights from data to create innovative digital platforms that deliver results across all media and devices. The agency was recognized in the 2015 WebAwards with Best Advocacy Website, Best Computer: Hardware Website, Best Information Services Website, Best Family Website, Best Electronics Website, an Outstanding Website WebAwards and 25 Standard of Excellence WebAwards.
Sixteen agencies or companies were also recognized as Outstanding Website Developer for winning six or more WebAwards in 2015. They include:
AGENCY (Number of Awards)
TravelClick 25
Risdall Marketing Group 18
TMP Worldwide 16
Scorpion Design, LLC 18
Marcus Thomas LLC 12
Positioner SA 9
TopSpot Internet Marketing 9
Miles 8
SapientNitro 8
Bridgeline Digital 7
WSI 7
HKTDC 6
Klick Inc. 6
MagiClick 6
Nebo 6
Sabre Hospitality Solutions 6
Competition format
The competition was judged by a team of independent Internet professionals representing a variety of relevant disciplines of Web site development. Judges included members of the media, advertising executives, site designers, creative directors, corporate marketing executives, content providers and webmasters.
The WebAward competition format allows Web sites to compete head to head with other sites within their industry to win the Best of Industry award. Entries also compete against a standard of excellence to win Outstanding Website and Standard of Excellence WebAwards. Each site is judged on seven different criteria and earns a score between 0 and 70 points. The highest score in a given category wins Best of Industry for that category. If the remaining entries receive a score of 60 or greater, they receive the Outstanding Web site award. Entries that score higher than their industry average and below 59.9 receive the Standard of Excellence.
The 2015 WebAwards are sponsored by the following leading organizations: Small Army Creative Services, PR.com, ad:tech conferences, ClickZ Live, EContent Magazine, VerticalResponse, Webmaster Radio and Website Magazine.
About the Web Marketing Association
The
Web Marketing Association
is working to create a high standard of excellence for Web site development and marketing on the Internet. Staffed by volunteers, it is made up of Internet marketing, advertising, PR and design professionals who share an interest in improving the quality of Website development and marketing on the Internet. Since 1997, the Web Marketing Association's annual
WebAward
,
Internet Advertising Competition
and
MobileWebAward
award programs have been helping interactive professionals promote themselves, their companies, and their best work to the outside world. Now in its 18th year, the WebAward Competition has become the premier award event for Web developers and marketers worldwide.
Contact
Web Marketing Association
Wiliam Rice
860-558-5423
www.webmarketingassociation.org

Contact