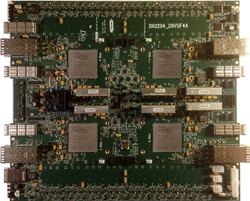 La Jolla, CA, August 11, 2015 --(
PR.com
)-- DINI Group announces immediate availability of the DNVUF4A, an ASIC prototyping system hosting 4 of the Xilinx Virtex UltraScale XCVU440, the industry's largest FPGA. The DNVUF4A has a capacity of 116 million ASIC gates. Seamless stacking of 8 or more boards is native to the architecture, enabling high speed prototyping of ASICs and SOCs needing 1 billion or more gates. The DNVUF4A joins a long list of high capacity, high performance FPGA products from the industry's established leader in large FPGA platforms.
The DNVUF4A hosts four of the high I/O-count XCVU440 in the 2892-pin BGA package. This 20nm, 2.5D FPGA is the largest FPGA device shipping today. Each XCVU440 contains 5 million flip-flops, helping to ease the always difficult task of logic partitioning. The fixed, high performance interconnect between the four FPGAs on a board can be augmented with off-the-shelf cables, allowing customization of the FPGA to FPGA interconnect. The Virtex UltraScale FPGA contains high-speed transceivers capable of 16GbE without need for an external PHY. These transceivers enable prototyping of GEN3 PCIe, SATA III, 10 GbE, 40 GBE, and USB3.0. An onboard processor boots to LINUX and has remote hosting capability, so teams from all over the globe can access the hardware without being physically present.
DDR4 memory, and other peripherals such as ADC/DAC and flash can be added from DINI Group's large list of off-the-shelf add-on cards. The DNVUF4A is shipping today with short lead times.
"We made this new
DNVUF4A
Virtex UltraScale board as fast and as versatile as possible. We used the biggest possible package," says Mike Dini, president. "It is perfectly suited for verification teams that do not want to spend precious resources designing and debugging their own FPGA-based hardware."
DINI Group is an established leader in large, FPGA-based boards, critical IP, and systems. DINI Group FPGA boards are used in large quantities for ASIC and SOC prototyping, low-latency trading, and high-performance computing. From their corporate campus in La Jolla, California, DINI Group employees have supplied over fifteen billion ASIC gates.