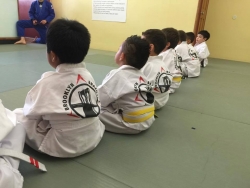 Brooklyn, NY, August 20, 2015 --(
PR.com
)-- As kids get ready to head back to school, the Brooklyn Brazilian Jiu-Jitsu network of martial arts schools is revving up to provide them with all the tools they need for the school year.
Over the next few weeks, the BBJJ martial arts schools will be providing free educational seminars geared towards teaching children the "life skills" necessary for success in (and out) of the classroom this Fall.
"We believe that students need a lot more than math skills to succeed in school. They need focus, confidence, social skills, discipline...all the things they learn in our martial arts school," says Manny Mendonis, an instructor at the Brooklyn Brazilian Jiu-Jitsu dojo in Dyker Heights.
Parents who are worried about the unknowns that a new school year brings will have a chance to prepare their kids for a time that's often full of challenges. One of the reasons the martial arts network offers these seminars for free is to make them available to all children, regardless of ability or background.
"The tools students will need to be successful after their formal schooling ends have shifted dramatically," says Jason Lynch of BBJJ Clinton Hill. "Just following rules and memorizing lists of facts aren't enough. They need creativity, critical thinking, collaboration, and communication."
The back-to-school martial arts seminars will take on two critical safety concepts for modern families: the first, on August 21, focuses on "Stranger Danger" awareness, while the second on September 4 deals with "Bully Defense."
This summer the dojos have already presented their strategies for safe living to over 300 children in summer camps and pre-school-year programs. Now the Brooklyn Brazilian Jiu-Jitsu group is looking to help even more kids.
"This is about family education, not just children's self-defense," says Lynch. "Our approach is a systematic way for families to keep their kids living safely. Whether its educating kids to stand up to bullies or to identify dangerous situations in their neighborhood, this is a fun way to learn."