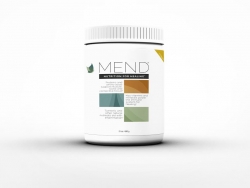 New York, NY, August 25, 2015 --(
PR.com
)-- Informa Exhibitions has named MEND™ as one of its finalists for the 2015 SupplySide CPG Editor's Choice Awards.
Five 2014 consumer packaged goods (CPG) products were selected by the SupplySide editorial team for achievements in innovation and market impact in 17 different categories. MEND was named to the short list in the Sports Nutrition category.
One winner in each category will be announced at SupplySide West 2015 during the SupplySide CPG Editor's Choice Awards Presentations, set for October 7th and 8th at the Mandalay Bay Resort in Las Vegas, Nevada.
"We're thrilled that the editors at Informa SupplySide, a leading producer of exhibitions for the global nutrition marketplace have recognized MEND as one of the top nutrition products for innovation and market impact," says leading CPG executive and co-founder Meena Mansharamani. "We continue to get strong recognition from experts in the medical and nutrition communities for the role that MEND can play in supporting healing from injury and surgery."
Nutrition For Healing®, the company behind MEND, was founded by world leading medical and nutrition experts who share a common philosophy on the critical importance of nutrition in healing following injury or trauma. Nutritional building blocks are utilized by the body to repair damaged tissue and enhance the healing process. A growing body of scientific evidence is showing a strong link between improved recovery following injury/surgery and nutritional supplementation.
For more almost 20 years, SupplySide has helped dietary supplement, food, beverage, personal care and cosmetic professionals find information to explore, discover, innovate and market their next best-selling product.
"In the past few years we've had tremendous success highlighting the products that are coming to market, driven by the innovative ingredients highlighted at SupplySide," said Heather Granato, vice president, content, in Informa's Health & Nutrition Network. "In considering hundreds of products, our team narrowed the field based on the unique positioning and ability to serve consumers with truly cutting-edge products."
For more information, visit
supplysideshow.com
.
About Nutrition For Healing LLC
Nutrition for Healing® LLC is a company founded by leading medical and nutrition experts who have the philosophy that with better nutrition comes better healing. We believe that in order for the body to heal optimally, it must be provided with the basic nutritional building blocks it requires for restoration of health and well-being. This overriding concept is the basis for all of our products, and is our inspiration for the goal of harnessing the natural power of nutrition to help heal the body. For more information please visit www.mendhealing.com
About SupplySide West
Hosted by Informa Exhibitions, this annual tradeshow and educational forum is the finished product manufacturer's gathering place for top performers, trends, scientific advances and networking. SupplySide West is all about the exploration, discovery, innovation and marketing strategy around the development of finished consumer goods that drive the global business economy. The 2015 show will be held October 5-9 at Mandalay Bay in Las Vegas. For more information visit
www.supplysideshow.com
.
For Media or Distribution enquiries please contact info@mendhealing.com.