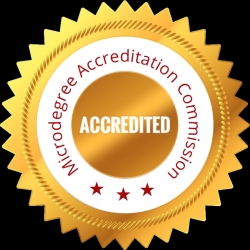 Atlanta, GA, September 04, 2015 --(
PR.com
)-- Edevate (http://edevate.com), Atlanta-based administrator of the MicroDegree Accreditation Commission (http://micro.degree) has announced that the McAfee Institute, a Miami, Florida-based online training school, has been granted MicroDegreeTM granting authority for its cyber-security programs.
McAfee Institute offers over 100 courses in the fields of cyber-security and fraud & loss prevention and their programs have been completed by over 1.5 million professionals in 135 countries. The Institute recently partnered with the Department of Homeland Security to make its certifications available through DHS' National Initiative for Cybersecurity Careers and Studies (NICCS) portal.
"With the exponential growth in cyberspace, cybercrime is not going away. More than ever, it's imperative that we have well trained professionals to help identify, investigate and prosecute criminal actions in this space from a global perspective," says Joshua McAfee CEO, McAfee Institute. "Our objective is to reinvent how professionals around the world advance and document their specialized knowledge & skill sets. The ability for professionals to evidence their competency through a globally recognized credential is the next evolution of online learning."
The acute shortage of skilled workers has encouraged hiring managers to look outside traditional educational channels and spawned innovative industry-specific credentialing models such as Udacity's "Nanodegree" and Coursera's "Specializations" as well as Edevate's MicroDegree.
The Microdegree is an open, institution-agnostic credential, meaning that it can be earned by combining programs offered through different course providers. The Microdegree offers the first and most effective open credentialing process for MOOC's, coding "boot camps" and many other competency-based programs.
A MicroDegree candidate has the freedom to stack and blend different types of educational processes using a process termed Incremental CredentialingTM evidenced via a Universal Transcript™ maintained on the Edevate platform.
Students who are granted a MicroDegree will receive a secure PDF diploma and a digital badge linked to a transcript describing the underlying educational experiences.
In order to place all forms of education on a common assessment basis, the MicroDegree Accreditation Commission utilizes the "MicroCredit" as a unit of measurement. MicroCredits represent documented education and training processes and an accredited MicroDegree equates to approximately 1,000 hours of learning experiences including a minimum of 500 contact hours in relevant accredited educational programs.
The McAfee Institute joins the list of institutions that have already received either provisional or full recognition by the MicroDegree Accreditation Commission, including The DaVinci Institute, The American College of Economics, and the Swiss American Academy. The Commission is currently in initial discussions and/or an active review process with numerous educational providers ranging from coding boot camps to public universities.
Gordon Rogers, Co-founder and President of Edevate said, "We are redefining competency based credentialing by allowing candidates to select educational experiences from any accredited institution as well as from the over 8,300 open education resources that are offered on the Edevate platform. This approach is similar to the introduction of iTunes, which offered consumers the option to purchase a single track instead of the entire album."
For more information about the McAfee Institute MicroDegree™ program, visit their website, http://www.mcafeeinstitute.com and click the "Need Help?" icon at the top of the page. You can also learn more about the MicroDegree at http://micro.degree or email info@micro.degree